How do I Choose the Best Broadband ISP?
To choose the best broadband Internet service provider (ISP), you may begin by comparing companies based on the types of services they offer and whether their services are available in your area. You may also compare ISPs based on the reliability of the Internet connection they provide. Likewise, the speed of the Internet connection may also play an important role in your decision making. Once you've narrowed your list of ISP possibilities, you may compare those that remain based on their available pricing structures.
You'll likely need to consider availability as you attempt to choose the best broadband ISP. While broadband Internet service is widely used, some types of broadband service may not be available in your area, or the provider you want may not serve your area. For example, if you want cable broadband Internet service, you may only have one service provider available to you, as one cable provider often dominates a particular area. If you want digital subscriber line (DSL service), on the other hand, this uses existing telephone wires and may not be available in some areas. Before you can compare providers and select the one that best suits your needs, you'll usually need to start by learning which services and providers are available in your area.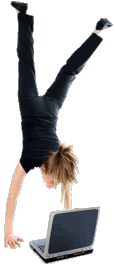 Reliability is also important when you want to choose the best broadband ISP. In general, broadband Internet service is more reliable than dial-up service, but some ISPs provide better service than others. If a company has a reputation for frequent service interruptions and poor Internet connections, you'll likely want to choose a different provider. Depending on the service you choose, the number of local users may matter as well. With cable broadband service, for example, more local users sometimes means a lower-quality connection.
Speed is also an important consideration when you're comparing broadband ISPs. Generally, cable broadband providers offer faster speeds. This can be influenced by other factors, however, such as the number of people using the Internet connection at any given time. Instead of comparing ISPs based on their projected maximum speeds, you may do well to learn what their average connection speeds are and compare them based on this information.
Cost is also a factor in selecting the best broadband ISP. You may find a wide range of service prices and feel tempted to choose the cheapest one. Since choosing the cheapest service sometimes leads to a poor connection, you may do well to compare companies based on reliability, service quality, and speed first. Once you have narrowed the list down to a couple that seem to be the best, you may then choose the ISP that offers the lowest price. Additionally, it's usually important to consider the regular price a broadband ISP offers, as this is what you may have to pay once the introductory period ends.
AS FEATURED ON:
AS FEATURED ON:

Woman doing a handstand with a computer