How do I Choose the Best Heatsink Design?
When choosing a heatsink for a computer case, the best heatsink design is the one that is right for your hardware and computer case. If you have a large amount of computer space or are designing your computer from scratch, you can opt for a low-noise, passive, cooling heatsink. A computer with limited space in the case will need a low-profile heatsink design, likely an active heatsink with a fan. Knowing your computer's needs and limitations and the features you want in a heatsink can help you choose the best heatsink design for your computer.
Active heatsinks are best for most common situations and are often the least expensive heatsinks. These heatsinks use the usual heatsink design seen in most commercial computers if you open up the case and take a look at the motherboard. A motherboard is the main chip in a computer that houses the computer processing unit (CPU). A heatsink is usually attached to the CPU on the motherboard and used to cool the CPU. In most cases, the space around a motherboard has limited open area for heatsink clearance, so a low-profile, fan-driven heatsink is the only choice.
Passive heatsinks are a type of heatsink design that functions on heat conduction only. These heatsinks are the quietest available, because they have no fan to make fan noise, but they also tend to be significantly larger and heavier than active heatsinks. Passive heatsinks are often so large that their weight can damage other hardware devices in the computer if they are not properly secured. Most passive heatsinks require a larger than normal computer case, which is the usually-metal housing that holds the computer parts in a single unit.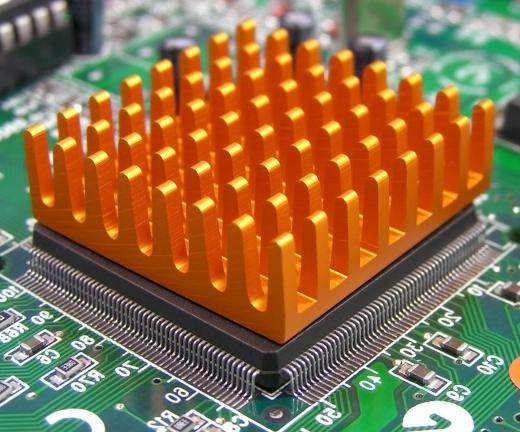 When researching heatsinks, you need to know your computer's limitations. Ultimately, you need the heatsink to fit in the computer case without obstructing any other hardware or cables. Know the hardware requirements of the heatsink, including installation procedures and power needs. Each type of heatsink draws a certain amount of power; if you are upgrading to a more powerful fan, check to see whether your computer's power supply can handle the extra load of the fan's power draw.
For a computer system that is designed to be visually striking, heatsinks designed to look good can give a stylish computer a futuristic look. As a secondary feature, if you have an open or transparent case and want to show your heatsink off, look for a design that appeals to your eye. It is more important that a heatsink work than look good, but many high-end heatsinks are designed with stylish metal coils or light emitting diode (LED) designs that jazz up the look of the heatsink design. Fancy heatsinks are not recommended for small computer cases or systems with a low-end power supply.
AS FEATURED ON:
AS FEATURED ON:

By: Lusoimages

The motherboard is a single mainboard inside a computer that connects all the necessary hardware and allows communication between them.

By: Andrew Barker

Heatsinks are designed to move heat away from a computer's central processing unit.