A printed circuit board (PCB) is designed to organize a circuit board. To make a PCB, draw up a prototype on a breadboard to discover whether a certain design will work. The copper side of the PCB is used for soldering; the other side contains all electronic components. Use a special solution to create the pattern before rinsing it thoroughly. To save time, it is also possible to copy a pattern from electronics magazines instead of creating a new one.
The purpose of a PCB is to keep a circuit board organized. If something goes wrong with the board, a fix is relatively easy. Electronic gadgets contain circuit boards but it is not always easy to find the right ones. This is why it is important to make a PCB.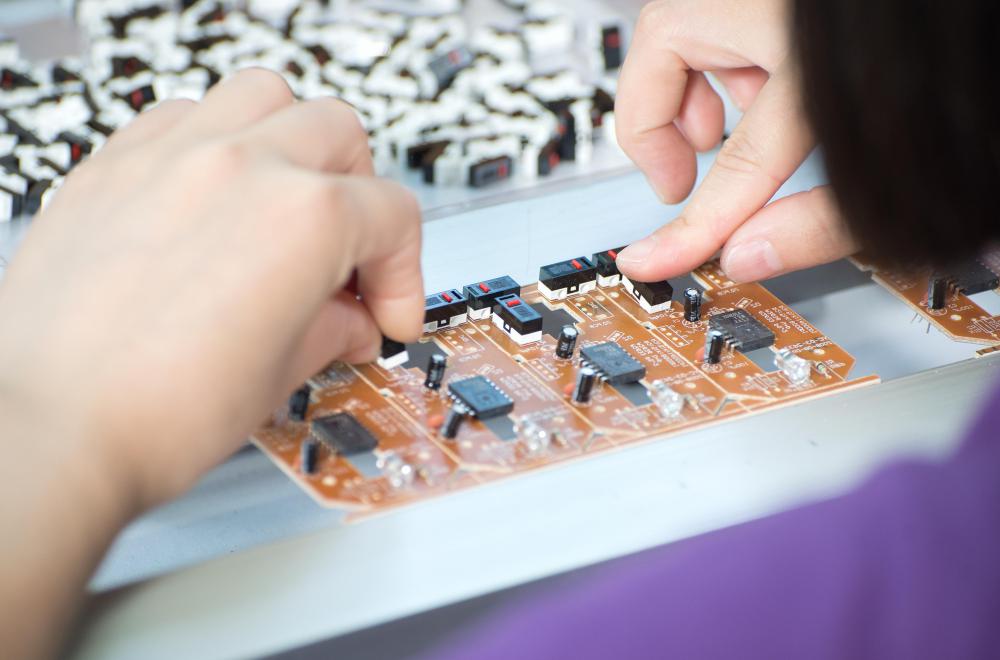 Before deciding to make a PCB, it is necessary to have a good idea of what needs to be achieved. This means drawing out some sort of plan or prototype. Another term for this prototype is the "breadboard." Its creation is vital because it allows the PCB maker to see what can and cannot work before deciding to devote the time and effort to make a PCB.
Design a circuit pattern which is based on breadboard findings. It is possible to create it with a pen and paper though it may be a better idea to complete it on a computer. Determine the electrical dimensions first before starting to make a PCB.
In creating the PCB, it should be noted that there are two sides to each circuit board. One side will be soldered with the other used for the components. Remember, the copper surface of the PCB is the side which must be soldered. Occasionally, there may be a hint of tin on the surface of the copper to give it a neater appearance.
To make a PCB, ensure that the copper side is exposed to light when the pattern is being made. All wires should be have some sort of transparent covering to protect them. Use a special solution to etch the pattern on the board. This ensures that all unneeded copper is removed from the soldered side. Carefully rinse the board with water.
If there are any problems with the PCB, use a voltmeter to ascertain exactly which circuit failed. Another way to make a PCB is to scan the pages of electronics magazines which often have PCB layouts. Copy one of these plans to make the board at home.