What are the Benefits of Cloud Computing?
For many businesses, the benefits of cloud computing have saved money and simplified technical issues. Cloud computing is less taxing on computers, with no need for in-house information technology (IT) specialists. The need for expensive software evaporates, replaced by subscription and free services, so cloud computing can be especially handy for start-up companies. Information is not tied to a single machine or office, allowing access from anywhere.
Traditional computer software programs are loaded into the computer or computers being used. In some cases, files can be shared across a computer network, but oftentimes, each computer must be loaded with the necessary software. Accessing the program and information requires the use of a specific computer. Even when each computer has the correct program, different versions might be incompatible and will require updates or patches to work with newer versions.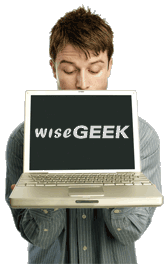 Cloud computing breaks away from this model by allowing users to access programs online. The software and files do not need to be stored on the computer, and the program can be accessed through any computer that has Internet access. Users sign in to individual, password-protected accounts to work with the files.
One of the benefits of cloud computing is the reduced demand on computer performance. Programs normally requiring computer space and processing power are running off-site. Less-expensive computers, too small to handle traditional software packages, can easily manage these tasks through cloud computing. Reduced demands on the computer lead to higher computer performance as well, not just for the cloud applications, but for all computer tasks.
Among the other benefits of cloud computing is storage. Compared with a typical computer's storage capacity, cloud computing offers practically unlimited space without clogging a hard drive and slowing the computer. Cloud computing storage is more reliable as well. A single workstation computer might fail, leading to the loss of important data, but the cloud service provider has a superior system with multiple backups to keep information safe.
Software packages purchased and loaded into the computer have a relatively short life. As updates come out, users must decide whether to continue using outdated software or to buy and learn the new version. Among the benefits of cloud computing is instant updating. The service provider keeps the program up to date, often without the user even noticing.
Price also is among the benefits of cloud computing. Traditional software packages can be expensive and typically have more features than are actually needed. Many applications are available for free, and others are available on a subscription basis. These subscriptions have the added advantage of allowing the user to purchase only the desired features, with the option of expanding as the business grows.
AS FEATURED ON:
AS FEATURED ON:

Man holding computer