What Are the Different Types of Computer Security Equipment?
Different types of computer security equipment are the various pieces of hardware and physical objects that can be used to secure a computer. Locks and cables are among the most common types of equipment for computer security, which are used to physically prevent a computer component or device from being removed. There are also pieces of computer security equipment that can be used to control access to a computer system, including dongles and biometric scanners for user authentication. Some devices can also be used with computers for purposes of security, such as cameras and motion detectors.
Computer security equipment typically refers to devices and objects that improve computer security, though they can also be security devices that function with computers. Some of the most common pieces of such equipment are steel cables and locks that secure a computer to another object. These are typically used with computer carts or desks to physically fasten a monitor or computer case to the cart or desk using cables. Locks are then used as computer security equipment to keep the cable from being removed by someone without a key. Locking cabinets can be used to protect cases and other devices.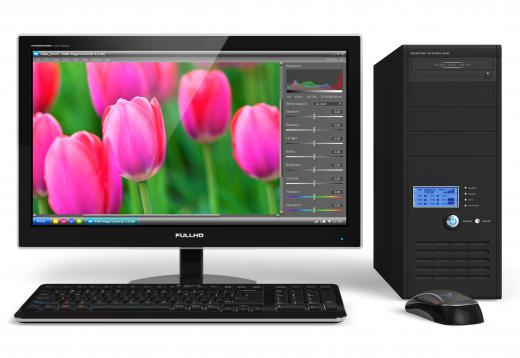 There are also a number of types of computer security equipment that can control who has access to a computer system. These devices are often used to identify and authenticate users to then authorize them to log into a system or access certain files on a computer. Dongles, for example, are devices that can be connected to a computer, often through a universal serial bus (USB) port, and require that it is connected for the computer to operate properly. Computer security equipment can also include biometric scanners, which can scan retinas or fingerprints, to authenticate a user prior to system access.
Some types of computer security equipment are not used to monitor access to a computer system, but instead allow a system to be part of a security setup. Video cameras, for example, can often connect to computers and allow a wireless network to be used for local security systems or make video feeds accessible from remote locations over the Internet. Some systems also include motion sensing devices, which can activate cameras and computer systems based on perceived movement. There is even software that can be used with computer security equipment for a variety of purposes, including the use of microphones to activate a system and programs that can send text messages to alert users of an incident.
AS FEATURED ON:
AS FEATURED ON:

By: Oleksiy Mark

In general, "computer security equipment" refers to devices that strengthen computer security.

By: Edelweiss

Various dongles and biometric scanners can be used for authentication and controlling access to a computer system.

By: wolandmaster

Computer security equipment can include hardware and physical locks used to hold equipment in place.