What Are the Different Types of Computer Security Locks?
Different types of computer security locks can typically be categorized based on the way in which they lock part of a computer to enhance security or control access to that computer. Physical locks are typically those that allow a computer to be secured in order to prevent someone from physically removing a component or device from the computer. These types of locks can be designed specifically for laptop or desktop computers, and can utilize keys or combinations for security. There are also computer security locks that prevent unauthorized users from accessing a computer system, which can include both software and hardware locks used as access control.
Computer security locks are objects that can be used to secure a computer system in one of a number of different ways. Some of the most common types of locks are physical computer locks that are used to keep someone from stealing a computer component or device. Monitors, printers, computer towers, and other objects can all be secured using these types of locks. These computer security locks can be designed in different ways, and are often created as either laptop or desktop locks.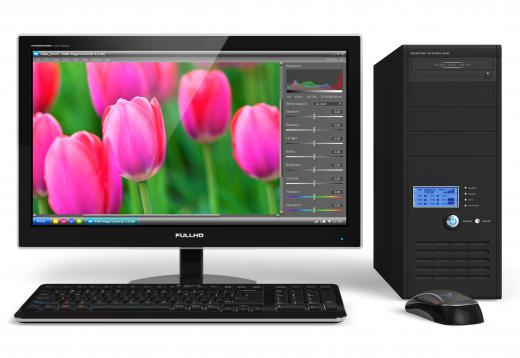 Laptop locks are designed prevent someone from physically removing the entirety of a laptop from a particular location. These computer security locks often connect to a slot on the side of the laptop case and connects them to furniture or other objects with a steel cable. Desktop locks are usually designed to connect to a wide range of components and devices, often through an adhesive fastener that can be secured onto a device. This allows such locks to be used on monitors and other devices of various shapes and sizes.
Physical computer security locks are often designed as either keyed locks or combination locks. Keyed locks require a key to be inserted into the lock in order to release it and allow someone to remove the connected device. The key for this type of lock is often held by the owner of a device or an authorized employee at a company. Combination locks do not require a key, but instead allow anyone who knows the numerical combination for the lock to open it and gain access to computer equipment.
Some devices and software can also be used as computer security locks to prevent unauthorized users from accessing a computer system. Devices can include anything from biometric scanners to security dongles that require proper authorization to allow access to a system, which protects data on that system. Software can include password systems and similar programs that also create access control for a computer. These computer security locks are used to protect data and software on a computer in much the same way physical locks protect hardware.
AS FEATURED ON:
AS FEATURED ON:

By: Oleksiy Mark

Monitors and other computer components can be protected using security locks.

By: Edelweiss

Biometric scanners and security dongles can prevent unauthorized users from accessing a computer system.

By: wolandmaster

Physical locks can be designed to hold desktop or laptop computers in place and safe from theft.