What are the Different Types of Fiber-Optic Systems?
Fiber-optic systems are used to transmit information in the form of pulses of light. The most common uses for fiber-optics are in telecommunication fields, including cable television, digital radio, and Internet communications. Fiber-optic systems are relatively simple and consist of fiber-optic cables, through which optical signals travel, and converters that transform the optical information into electrical signals. In some systems, there may also be converters or couplers that boost the fiber-optic signal or transfers it between optical lines.
One of the more common types of fiber-optic systems is a digital video system. This system is capable of transmitting the digital video signals, including high definition cable signals, that are sent to television sets. In 2011, many cable companies still use a combination of fiber-optic and coaxial systems, but the industry is moving toward a complete conversion to digital systems, which would utilize fiber-optic cables.
Audio signals can also be transmitted through fiber-optic systems. Often, an audio signal is embedded in a video signal, but the audio can also be sent through a separate fiber-optic cable, like a digital radio signal. Audio signals are sent through fiber-optic systems in the same way they are transmitted through video systems, as binary code in which a pulse of light is either "on" or "off".
There are a number of different industries that utilize fiber-optic systems for high quality digital imaging. These include the medical field and robotics. Both of these fields may need to acquire visual information from small or difficult to reach areas. Fiber-optic systems can be used to relay information to video monitors and computer systems.
Fiber-optic systems may also be used to allow computers to communicate with one another. Binary code can be sent through a fiber-optic cable, which can relay information between computers. Though the majority of this information is used in telecommunications, it can be used to transmit other types of information as well.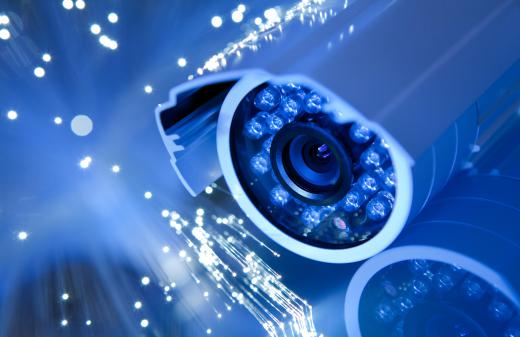 Fiber-optic systems are composed of fiber-optic cables that are attached to transceivers at either end of the cable. The transceivers are used to send and receive information, but the optical signals must be transformed into electrical signals in order to be interpreted by computers. Photosensitive semiconductors are used to convert optical information into electrical information, and light-emitting diodes (LEDs) or lasers are used to convert electrical information into optical.
AS FEATURED ON:
AS FEATURED ON:

By: Witold Krasowski

Fiber-optic cables transmit optical information and convert it into electrical signals.

By: Zsolt Biczó

Fiber-optic routers are more expensive than most other routers, but they are also much faster.

By: Silvano Rebai

Fiber-optic systems use pulses of light to transmit information.