What Is a Computer Security Audit?
A computer security audit is a technical assessment of how well a company or organization's information security goals are being met. Most of the time, companies hire information technology (IT) specialists to perform audits, usually on a random or unannounced basis. One of the main goals of the audit is to provide executives with an idea of the overall health of their network security. Reports are often comprehensive, documenting compliance alongside any unearthed risks. Depending on the sort of network and the complexity of the systems at issue, a computer security audit can sometimes be done on a smaller scale with a dedicated software program.
Networks, intranet connections, and Internet accessibility have made corporate dealings incredibly efficient, but with this efficiency comes a certain degree of vulnerability. Common risks include hacking, information theft, and computer viruses. Companies usually implement a number of network security software programs to mitigate these risks. They usually also create best practices rules governing network use. A computer security audit is a way for corporate leaders to take a look at how these measures are working on a day-to-day basis.
Audits can usually be as narrow or as comprehensive as administrators wish. It is common for companies to audit individual departments, as well as to focus on specific threats, such as password strength, employee data access trends, or overall integrity of the corporate homepage. A more overarching computer security audit evaluates all of the corporation's information security settings, provisions, and actions at once.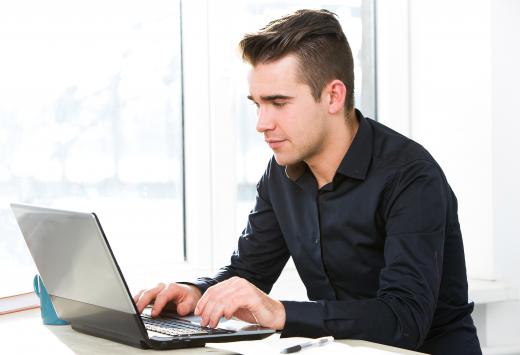 In most cases, the audit does not end with a list of risks. Understanding potential vulnerabilities is very important, but it alone does not ensure network security. Computer security audit reports must also detail ordinary use — specifically, how that use complies with a company's security goals — and then make suggestions for improvement from there.
Analyzing access to sensitive data is usually a major part of a computer security audit. Knowing which employees have accessed data, how often, and why can give corporate leaders some insight into how private certain information really is. Auditors can also look at the security settings for corporate assets like the mainframe website and individual e-mail accounts and can usually calculate how many times each has been logged into during the audit period. The goal here is not as much to track individual employees as it is to get a sense of average traffic patterns and to understand common usage models.
More than anything, the audit's main goal is to provide an overarching picture of a computer security landscape. Most companies schedule audits on a regular basis, often through their IT departments or with outside contractors. It is through these exercises that they learn to be proactive in response to evolving threats. Many update their antivirus and computer security software, change their password policies, and up the strength of their firewalls in response to audit report findings and recommendations.
AS FEATURED ON:
AS FEATURED ON:

By: Eimantas Buzas

IT specialists can perform audits to find out the security levels of computer networks.

By: Yeko Photo Studio

Understanding potential vulnerabilities does not ensure network security.

By: Edelweiss

Guided by computer security audit findings, companies often will update security software and change password policies.