A USB touchpad adds a laptop-like pointing device to a desktop keyboard to avoid having to use a mouse. For many people who have become used to the touchpads built into their mobile computers, returning to a desktop computer with a conventional mouse can be uncomfortable and inconvenient. A USB touchpad requires virtually no pressure to point-and-click and arms can stay relaxed at the sides when the device is secured to the keyboard.
A USB touchpad looks like a standard touchpad with an attached cable that plugs into the USB port. The touchpad itself is a slightly rectangular pad with a touch-sensitive surface. The lightest swipe of a fingertip controls cursor movement, and taps emulate clicks. Scrolling is accomplished by sliding a fingertip up or down the vertical edge of the pad, or along the bottom edge for horizontal scrolling,.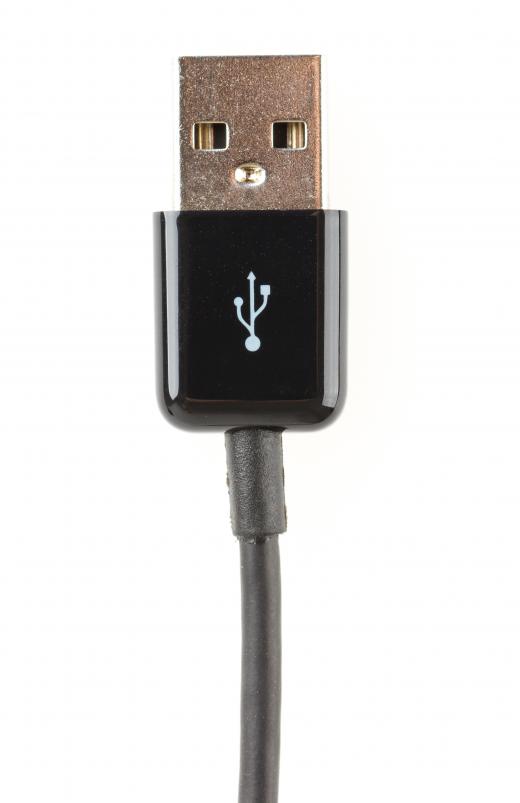 Software is used to adjust general sensitivity, tap pressure, and the time gap between taps to indicate a double-click. Additional drivers can enhance a USB touchpad, allowing for extra user-configurable features. For example, the corners of the touchpad can be set to perform special functions when tapped. A tap to one corner might mute/un-mute sound, while tapping a different corner might minimize/maximize the active window or act as a click to the Windows® Start button.
Two mouse buttons are located just below the pad as an optional alternative to tapping. One can switch the left-and-right mouse button functions, or set the touchpad so that pressing both buttons simultaneously acts as a third mouse button.
You can place a USB touchpad alongside a keyboard or attach it to the keyboard to avoid the need to reach for the device. Some keyboards are designed with large wrist rests, providing plenty of real estate for a USB touchpad. Double-sided tape or Velcro® might be used to affix the touchpad in the most convenient location. One advantage of making the USB touchpad detachable is that you can hold it in your lap to surf when relaxing.
Special USB touchpad clips are also available to mount the touchpad over the number keys, for example, or over an unused portion of the F-keys. Two L-shaped clips attach to the underside of the touchpad with feet extending and spaced appropriately to straddle a row of keys. The touchpad can be moved freely from one row of keys to another.
If you don't relish the thought of a wire running to a USB port, you can opt to replace your desktop keyboard for a model that comes with a built-in touchpad. Adesso® Inc. of Walnut, California is the main manufacturer of USB touchpads and of desktop keyboards that feature a built-in touchpad. These products are readily available online, though you might have trouble finding them on the shelf of the local brick and mortar retailer. After purchasing a touchpad or Adesso keyboard, be sure to check the Adesso website for the latest drivers.
AS FEATURED ON:
AS FEATURED ON:

By: michaklootwijk

A USB cable connects a USB touchpad to a computer.

By: Gajus

Many people become use to the touchpads found on laptop computers.

By: macbrianmun

USB cables are used to connect devices -- such as touchpads -- to computers.

By: Shawn Hempel

A USB 3.0 touchpad offers faster on screen response time than a traditional USB port.