What is an Ethernet Shield?
An Ethernet shield is a computer component commonly used with Arduino technologies. These components allow a device to connect to the Internet through the use of an Ethernet cable and a local access network (LAN). They may be used to both receive and send information over the Internet.
The main element in these devices is a jack that an Ethernet cable can plug into. The Ethernet jack is attached to a small board along with a few circuits. These circuits allow the Ethernet shield to communicate with the device it is attached to. Most Ethernet shields include a standard feature that allow them to reset along with the normal power cycle of that device. Some also come with a storage device (SD) or micro-SD slot.
Wire wrap headers connect Ethernet shield to the board of an electronic device, allowing it to be attached easily. It is also possible to stack another component on top of the Ethernet shield. The connectors create enough space between the Ethernet shield and the other components that the circuits on the board will not be damaged. Pins extending from the Ethernet shield to the board allow the two components to communicate with one another.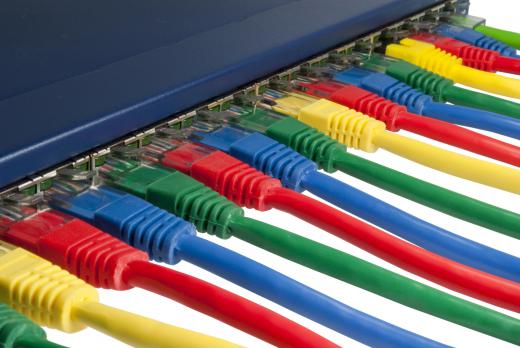 Arduino technologies commonly use Ethernet shields as a part of their design. The main use for these components is to send programs from one device to others or over the Internet. In Arduino devices, a program can be written on one device and sent to be used on another. A simple way to transmit the programming information between Arduino devices is to connect them through the use of an Ethernet shield, which then gives multiple devices access to the library of information provided by the programmer.
Sensors, such as those that are sensitive to light, temperature, or sound, are used on Arduino devices. Engineers design programs that use input from these sensors to control various devices, such as voice controlled computers or automatic lighting systems. Arduino devices may function on their own, or they may communicate with other devices or computers in their newwork. They can be connected to these computers physically or by an Internet connection, such as an Ethernet shield.
AS FEATURED ON:
AS FEATURED ON:

An Ethernet cable.

By: tr3gi

Ethernet cables plugged into an Internet switch.

By: ArtemSam

Many computer users are familiar with the Ethernet cable, because that's what they plug into their computer or high-speed modem to connect to the Internet.