An iDog® or any type of iPet, such as iFish or iCat or even the iPenguin, is a clever children's toy that allows you to use your MP3 player in a very different way. These little animals, which are made of hard plastic and come in a variety of colors, interact with music and will "dance" when they are either plugged into an MP3 player or placed next to a loud speaker. The toys also respond to things like being petted, and are similar in some ways to toy predecessors like Furbies®. The latest version, the iDog Amp'd has more interactive features, even sulking if you don't allow it to listen to music regularly.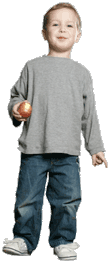 Though one might hope that the iDog, made by Hasbro®, would really do some serious dancing, the toy is a bit more passive. It may shake its head a little, raise its ears up and down, and tap its foot, but it won't be dancing all over your table or floor. Its principle use, which can be especially helpful in the Amp'd version is as a speaker so you can play your MP3 player without earphones. The earliest versions of iPets did not have stereo sound, so they weren't necessarily for music aficionados. Amp'd versions of the toy feature stereo sound, about equivalent to an inexpensive boom box, and often good enough for kids who'd like to share music with friends.
Volume on the toy is adjustable, usually by moving the dog's tail up and down. You can also set the volume on the MP3 player lower if you'd like to turn down the Amp'd iDog. The Amp'd version does tend to play at a higher volume than others around you might appreciate, so it takes a little adjusting. You can also purchase iPets in a variety of colors. Some lean toward the distinctly feminine in color and others are more unisex in color.
Age recommendations for the toy are eight years and up, and it does take careful reading of the instructions to get the most out of any iPet. Kids who are not techies and who don't read directions well may need to get help from parents at first to get their iDog to respond appropriately, and even parents should read any accompanying instructions carefully.
Price is definitely one of the most likeable features about the toy. While you can spend quite a bit to get docks or stereo systems to accommodate your MP3 player, the Amp'd iDog can retail on sale for as little as $20 US Dollars (USD). When not on sale, the average price of the toy is still under $30 USD, and you might want to do some comparison shopping for the best price. Do expect to use batteries aplenty if you use your iPet frequently. Though the pet only takes two AA batteries, you still might want to consider rechargeable batteries if you find yourself using the iDog all the time.