What is Custom Web Design?
Custom web design is the process of creating customized websites based on the needs and desires of a customer, often performed by artists, programmers, and web designers. Many sites on the Internet are created through the use of templates and result in websites that can often have similar layouts or visual styles. This is not necessarily a bad thing, especially for small businesses or private individuals who are not looking to spend a lot of money on a website. Larger companies, however, often prefer a site with custom web design that more effectively captures the business represented and the audience viewing the site.
These types of Internet sites are often created by web designers and graphic designers who create custom layouts, images, videos, and other aspects of a webpage. What custom web design usually attempts to do is create an Internet site that is unique and allows a business to establish a visual design and aesthetic that best captures the feel of the company or appeals to its target customers. A website for a company that primarily caters to women, for example, will often use colors, typefaces, and images that are found to be appealing to women to encourage them to visit the site. A site intended for teenage males to visit would likely incorporate very different colors and visual choices.
The process of creating a website with custom web design can often take more time and money, as more steps are usually involved, than making a simpler site. This is often viewed as an investment by companies, however, as having a more exciting webpage can attract more viewers, which in turn can lead to greater profits or market exposure. While web designers often work with templates and simply insert a client's information and visual preferences, creating a customized website often involves the talents of a larger team.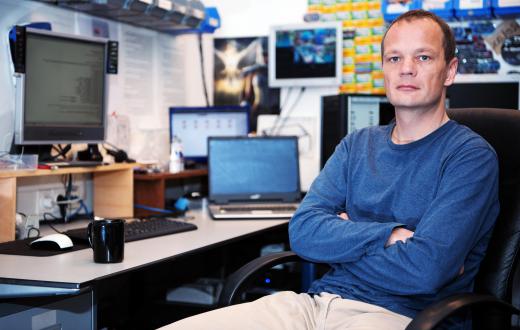 Graphic designers may be used to create banners, images, and the overall layout of a site that is being built with a custom web design. Animators and other artists may then use programs to create animated images or videos to welcome customers to the site or to highlight certain aspects of the webpage. These features can go even deeper and include altering some basic functions of the site, such as changing the cursors and pointers of users while they navigate the website, having interactive menus and events occur during viewing of the site and incorporating other multimedia features into the custom web design.
AS FEATURED ON:
AS FEATURED ON:

By: Alexstar

Custom web designers may work with a site's HTML code to create a unique look for clients.

By: corepics

Animators and other artists can use programs to create animated images or videos to welcome customers to the site or to highlight certain aspects of the webpage.