What is Internet Monitoring Software?
Internet monitoring software consists of computer programs that are used to detect the internet activity of a particular computer. While the internet has increased efficiency of the professional office exponentially, it can also be one of the biggest distractions and reasons why productivity suffers. This is why business internet monitoring software is so popular with some employers who rely heavily on many employees using computers. In addition, this software can also be an aid to parents.
There could be many reasons that an employer would want to have some sort of internet monitoring software in place for a business. The most obvious reason is to determine whether any illegal or unethical business is being conducted online. Other reasons include determining whether the employee is spending work time to socialize, visit sites unrelated to his or her work duties and chatting. Most internet monitoring software programs look after all these things.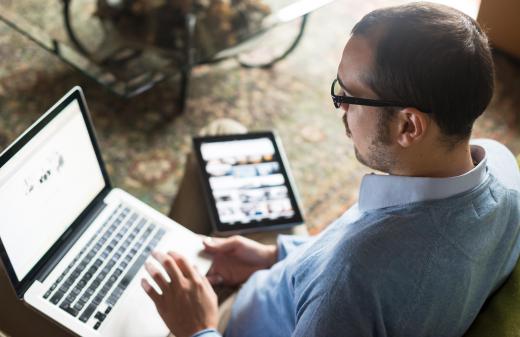 In a family, the same also holds true. Though most of the family protection can be handled with good internet filtering software, there some aspects of the internet that cannot be handled in such a way. Filtering software, for example may do well at blocking pornographic or violent images, but it may not do as well in restricting the types of chat rooms a youngster wanders into. These can often be just as dangerous for youth.
The best internet monitoring software, no matter what the brand, does many of the same things. It will keep a log of all the sites visited. It may also capture screen shots from some of those sites. It will keep a record of all instant messaging conversations, logging the times as well. E-mail activity is also monitored, with messages, both received and sent copied and stored for later review. In addition, some programs will even send e-mails to the software installer or owner if there are certain keywords used in internet searches. This gives the person monitoring the usage nearly instant feedback if something is not right.
In addition to internet monitoring software for content, there are other types of software available as well. For example, there are programs capable of reporting the speed of an internet connection, just in case you have concerns about how fast your connection truly is. Another form of software, known as internet traffic monitoring software, can also help by showing how many network computers are accessing the internet, and overall total network usage.
AS FEATURED ON:
AS FEATURED ON:

By: Eugenio Marongiu

Web analytics are important to anyone who cares about who visits their site and how they got there.

By: michaeljung

Internet monitoring software can be useful for a family with young kids, as filtering software may not provide complete protection.