MOV is an audio and video file type that was developed by Apple Inc. and primarily is used with the company's QuickTime media player. It acts as a multimedia container for digital videos, and its multitracking ability allows editors to shape the file in a variety of ways. MOV has enjoyed one of the longest lives of any file type during the digital age.
First appearing in 1991 when Apple unveiled QuickTime 1.0, the MOV file type was one of the first multimedia files available to the public. Over the course of its lifetime, this media format has seen seven versions of the QuickTime program but has remained the primary format for viewing videos through the player. The file type's simplicity is the chief reason for its longevity.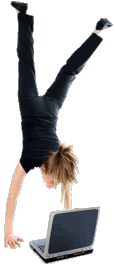 An average MOV file contains one or more tracks of data. Tracks are organized in a hierarchy of information called atoms. Atoms often parent other atoms or allow for editing, but their most popular function is housing media data. The primary media that makes up an MOV file are video tracks, audio tracks, effects tracks and text tracks.
Video is more often than not the primary track of any file and provides the visual element of a QuickTime movie either as animation or actual video footage. An audio track also is common in a QuickTime file and provides all of the sound for the video, ranging from dialog to music and sound effects. A less common but still important element of the atoms are effects tracks that allow video techniques such as fades and transitions to happen onscreen. Text tracks also are found embedded into an MOV file and are most commonly found as movie subtitles.
Because the primary elements of a QuickTime file are separated so clearly, MOV files are popular for editing. This allows editors to change the makeup of a file without having to completely rewrite it, as they would with other file types. Apple's Final Cut program is a common tool for the editing job. MOVs can have any of the four primary tracks changed for time, cut out completely and easily replaced. This freedom produces a variety of video options with a single file.
The MOV format has been the format for some of the most used video files for nearly two decades. By providing a multimedia file that is simply organized and easily rearranged, it remains popular today. Whenever someone watches a video using QuickTime or edits using Final Cut, there is a good chance that a MOV file is being used.
AS FEATURED ON:
AS FEATURED ON:

Woman doing a handstand with a computer