What is Tri-Band Technology?
Tri-band technology refers to portable communications devices (generally cell phones) that operate over three broadband frequencies instead of one. Sometimes referred to as "world phones," tri-band phones offer the ability to send and receive calls over a greater geographical range. The three most common frequencies used are GSM900 and GSM1800, which are used in most parts of the world, and GSM1900, which is used mostly in the western hemisphere.
GSM stands for Global System for Mobile Communications, which is the digital relay system under which 80% of the world's cell phone carriers operate. When a call is placed, the cell phone searches for a signal from the nearest tower, which may or may not belong to that particular provider. GSM-based service providers all allow each other's calls to route through all towers regardless of ownership, which allows them to provide service in any area where towers exist. This is what allows the user a greater roaming range, even internationally, than other network technologies.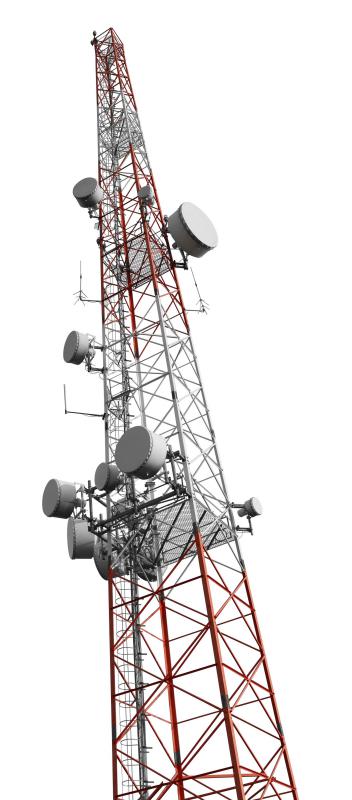 When a phone has the capability of not only operating on the GSM system, but also of operating over three different frequencies, its roaming capabilities increase dramatically. There are two general types of tri-band phones; the American, which covers the 850, 1800, and 1900 bands, and the European, which covers the 900, 1800, and 1900 bands. Frequent international travelers tend to rely more on the European model, which covers more area outside the United States and Canada, but if the coverage still isn't adequate, there are quad band phones that allow the 850 band to be added.
Tri-band phones still operate under the GSM standard, which is second-generation (2G) technology. 2G phones were the first major upgrade from the original mobile phones from the 1980s, and switched the standard from analog to digital in the early 1990s. Early in 2001, third-generation (3G) technology was introduced that allowed each phone to stream voice and data simultaneously, with faster transmission rates. 3G became standard, with 4G being introduced in 2010, making 2G tri-band technology essentially obsolete.
Even if the cell phone is tri-band, all frequencies may not be activated by default, and the service provider should be notified if the phone is to be used overseas. Phones purchased with service contracts may be locked because although the technology is tri-band, the service carrier does not have international roaming agreements, therefore the phone will not work internationally. If the phone is not locked, a SIM card can be purchased from the destination country, which would lower per-minute charges (because it would not count as roaming), but the phone number may change for the duration of the stay.