Webcasting is simply the live or delayed distribution of video or audio content online. The term was coined in the 1990s as media outlets began to make their programming available over the Internet. Many websites use some form of webcasting to attract audiences, who seem to be responding positively to the increased content available online as well as the increased flexibility of when they can view or listen to that content. The introduction of broadband Internet has also facilitated webcasting by permitting large amounts of data to be transmitted.
Although webcasting is a popular method for delivering media that has traditionally been delivered over television and radio airwaves, it can also be used for other purposes. Universities and colleges have recorded lectures to support online or traditional courses. Craftsmen have created how-to-videos to share with the public, while others have established online interview or call-in shows to talk about recent developments in their fields. Some organizations have used webcasting in lieu of in-person meetings and conferences. Online broadcasting of sports events has also become popular as fans can buy access to view games of their favorite sport over the Internet.
Anyone can make a webcast with the appropriate technology, but it does take some planning. Simple webcasting can be done from home by recording an activity using a digital camera or even the camera installed on a computer, uploading the file and posting it online. Other projects might be more complex and involve more equipment. For example, if a couple wants to create a wedding webcast so their elderly grandparents can watch the proceedings from home, they would have to bring digital video recorders, tripods, good lights, and microphones to the event. The videographer would have to create a live feed from the digital recorder to the website where the content would be streaming. In order to do this, the videographer would need the appropriate software, wireless internet access, and at least one laptop.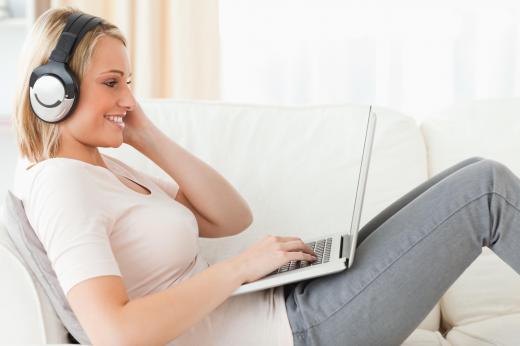 For some events, the webcast might be more effective if the content has been edited first. In this case, the webcaster will need to buy appropriate editorial software to make changes to the quality of the visual and sound elements of the video or audio file. Because these files tend to be very large, the webcaster must compress the file before uploading the content online. These files can be stored on content delivery networks for later retrieval by guests to the site.
AS FEATURED ON:
AS FEATURED ON:

By: duncanandison

Webcasting of sports is especially important for hardcore fans who cannot attend every game.

By: WavebreakmediaMicro

Webcasting allows people to enjoy events via streaming video.

By: Andrey Burmakin

Webcasting allows people to attend informational sessions without being physically present.

By: paylessimages

Many colleges and universities record live lectures for online learning.

By: picsfive

A webcast may include audio or video from a press conference or interview.