Are FireWire® Ports Becoming Obsolete?
FireWire® is an interface standard for a serial bus used for real-time data transfer at high speed. It is used for digital audio and video, as well as for applications in aeronautics and the automotive industry. Created by Apple Computer, Inc. in 1995, FireWire® is also known as i.LINK™ and Lynx, depending on the company deploying it, and the standard is referred to as IEEE 1394. Since its introduction FireWire® ports have been used to replace or add to other types of ports, such as parallel SCSI ports, and is still in widespread use.
FireWire® has two important versions: FireWire® 400 and FireWire® 800. FireWire® 400 is the initial version and uses a 4-circuit or, more often, a 6-circuit powered connector that is limited to 14.8 feet (4.5 m) in length. It is, however, possible to daisy chain connections up to 236 feet (72 m). FireWire® 800 was introduced in 2002 and uses a 9-circuit connector and can maintain over much longer connections.
Some companies, like Apple, have replaced the initial version of the FireWire® ports on their computers with FireWire® 800 ports. While FireWire® 800 is backward compatible, an adapter cable is necessary to connect FireWire® 400 devices to FireWire® ports that are made to the 800 standard. In addition, when daisy chaining a combination of devices, the FireWire® 400 devices should be at the end of the chain, with the FireWire® 800 devices being connected directly to the port.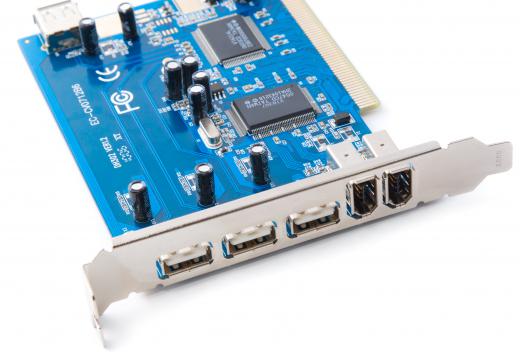 The continued popularity of FireWire® ports is demonstrated in several ways. One is the sale of computers with FireWire® ports. Because FireWire® is faster than USB 2.0, a FireWire® port may be provided in addition to USB 2.0 ports, rather than instead of them. Apple®, Sony®, and Toshiba®, for example, all sell computers with FireWire® interfaces.
Another signal of the popularity of FireWire® ports is the continued sale of peripherals with FireWire® adapters. LaCie®, for example, offers both external hard drives and speakers with FireWire® connectors. Seagate®, Western Digital®, Iomega®, and Buffalo Technology® also make external hard drives with FireWire® ports and cables. Digital camcorders are another device that is popularly connected to computers by FireWire®. And, of course, the sale of FireWire® cables, by manufacturers such as Belkin® speaks to the continued popularity of FireWire® ports.
AS FEATURED ON:
AS FEATURED ON:

By: 100pk

A USB cable to the left of two Firewire® cables.

By: Timur Anikin

A FireWire® port.

By: Shawn Hempel

USB 3.0 speeds surpass those of Firewire in most cases.