Can I Use a TV As a Computer Monitor?
In many cases, you can use your TV as a computer monitor. To do so, you must determine what type of connection ports are available on both the computer and the TV, obtain the appropriate connection cable, and use the cable to link the two devices at their ports. While connecting the two is often a simple process, in some cases, resolution incompatibility will cause the resulting display to be of poor quality.
First, examine both the computer and the TV to determine which connection ports are available. The most common computer video-out ports are the small, round S-video port and the trapezoidal VGA port. Your TV may also feature one of these ports, or it may have a different type of connection. Alternate TV video-in connections include the DVI port, which is similar in appearance to the VGA port but with more pins, the component video port, which consists of small red, yellow, and white holes, and the composite video port, which consists of a single small hole. HDTVs will likely have HMDI ports.
Now that you know what type of connection ports are available, you will need to get the appropriate connection cable and link your computer to your TV. Depending on the port types, this task can be very straightforward or more complex. Cables can be found at most electronics stores and online.
Should both devices feature the same type of connection port — S-video ports, for instance — then you can purchase a simple cable that features that type of hookup on each end, and plug the ends into the ports. One potential drawback to an S-video to S-video hookup, however, is that you will need to establish a separate audio connection if you would like your computer's sound to play through the TV's speakers. Doing this will require another cable that fits both devices' audio ports.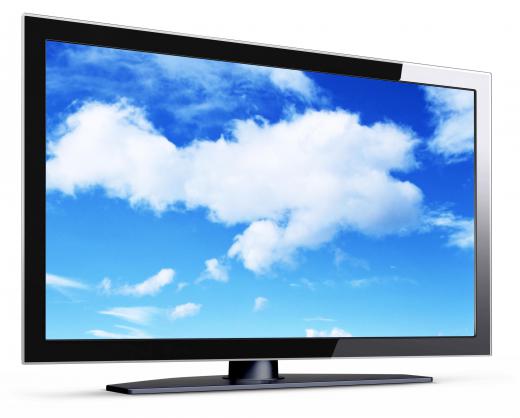 In many cases, your TV and computer will not feature the same type of connection port, so you'll need to get a converter cable. These cables have a different hookup on each end, allowing you to link two devices with different port types. They are available to suit many port combinations.
Say, for example, that your computer has a VGA port while your TV has a component video port. In this case, you should purchase a VGA to component cable. To connect computer and TV, simply attach the VGA end of the cable to the computer's VGA port and plug the component end into the TV's component port. Converter cables are often more expensive than those with the same connector on both ends.
After you have physically connected computer and TV, you must change your computer's settings to direct its video signal to the television. To do this, turn your computer on and open its display settings, usually found in the control panel menu. Click the output device tab, and then select "Enable Output to TV" or "Connect to a Projector." Note that this procedure and the wording may vary slightly, depending on your computer model. Once this option has been selected, the computer's display will be rerouted to the television and the computer monitor will go blank.
Even if you have successfully connected your devices and adjusted your computer's settings, you may find that you cannot use your TV as a computer monitor due to resolution issues. In some cases, a computer monitor's resolution is higher than a TV is capable of adapting to. As a result, the TV display can distort or cut off some of the video output. It may be possible to change your computer's resolution to suit your TV's capabilities. You can determine the resolution ranges of your TV and computer by consulting their user manuals.
AS FEATURED ON:
AS FEATURED ON:

By: luxpainter

Connection ports should be analyzed on both a television and computer to determine whether a television can be used as a computer monitor.

A flat screen television can often be used as a computer monitor.

By: de_marco

A VGA cable, which may be needed to use a TV as a computer monitor.

By: Sensay

An adapter may be necessary to link a computer to a television with component video ports.