14 Best Surge Protectors for Gaming PC
Most people aren't too excited about a surge protector for a gaming PC. It's not the sexiest electronic device, nor will it turn your PC into a gaming superstar. Imagine if you've just invested $5,000 to purchase a top-end gaming setup, and it implodes after your first electrical surge. If this happened, wouldn't you wish you invested in a quality surge protector to protect your gaming PC?
You certainly don't want your PC blowing up. Therefore it's critical to understand what surge protectors do to be able to choose the right one for your needs. A faulty surge protector is not only dangerous; you could also be spending your money on the wrong device, which can be an expensive exercise.
To help you separate a good surge protector from a bad one – we've reviewed 14 of the best surge protectors for gaming PCs.
Our Top Surge Protectors for Gaming PC
Power Strip Tower Gaming Surge Protector
If you're constantly annoyed at how a power strip falls behind your gaming console, consider a power strip tower. The iClever power strip tower makes your setup more flexible and convenient. Its smaller footprint easily sits on top of a desk without taking up too much room.
The iClever Power Strip Tower Gaming Surge Protector includes eight AC Outlets and four USB Ports. It's suitable as a desktop charging station. What we love about this model is the 10 ft extension cord. This model allows you to easily connect to your laptop, smartphone, tablets, and more.
Its innovative design makes it easy to plug and unplug items. The eight AC outlets' widely spaced design allows room for oversized adapters without covering any other outlets. The extra spacing between outlets helps if you have odd plugs that don't typically fit. Furthermore, it looks classy in any setting. You can place it on your desk or the floor as it doesn't take up too much room.
It features an overload protection switch. In the event of a dangerous power spike or surge, the integrated circuit breaker automatically stops all outputs. With low joules, keep in mind that it won't last forever.
Bottom line:
If you are looking for a desktop surge protector, this may work for you. As for gaming, we are hesitant to recommend this as it won't last long.
APC Surge Protector
If you are looking for the best power strip for gaming, the P11U2 APC surge protector strip offers guaranteed surge protection. With this sleek device, it can connect and protect up to 11 electronics at once. It conveniently charges mobile devices with two USB ports.
The APC is excellently designed, incorporating many improvements over traditional surge protector strips. The rotating power plug allows you to manage the cord easily. Four widely spaced outlets will accommodate oversized power transformers. The sliding covers keep dust and debris out of unused outlets.
It automatically disconnects your devices from power in case of a significant surge. Other surge protectors may continue to let power through after the surge. The highlight for us is the green LED that will display if the protection is compromised over time. Although you shouldn't fully trust these types of indicators, it adds another layer, giving you visual peace of mind. If the LED indicator on the unit isn't working, it will be replaced under warranty. It also will indicate if there is a problem with the outlet wiring.
A recessed power switch makes it more difficult to trip accidentally. The device also has a built-in wiring fault indicator. This will also test the electrical outlet you plug it into.
The only negative is that the sockets don't seem to be deep enough. Many plugs can't be fully inserted. If you use the protector behind a desk or table, you could accidentally drop paper clips or other wires in the crack between the desk and the wall.
Overall, this is a great gaming power surge protector without a lot of frills. It's reasonably priced and manufactured by a reputable company in power protection.
Bottom line:
The sockets aren't deep enough. Therefore, it's hard to plug anything into this surge protector. It's okay if you only have a few electronics to the plugin. For serious gamers it's not one of the best choices.
Echogear 12 Outlet Surge Protector Power Strip
The Echogear 12 Outlet Power Strip Surge Protector is ideal for protecting gaming PCs. It's one of the best power strips for gaming, with 3,420 joules of heavy-duty surge suppression. It protects up to 12 AC outlets and two coax ports all at once.
With its sleek, low-profile design, it packs in the features. The corner outlets have extra space accommodating monster-sized adapters. You'll love the sliding safety cover to keep unused outlets locked. As a bonus, this power strip is encased in ceramic so that it won't catch on fire.
What we love about this power strip surge protector is the mountable design. Attaching the power strip to your wall or furniture is a breeze. The flexible power cord reaches outlets easily just as long as they aren't more than six feet away.
Surge protectors don't last forever. If the green LED light no longer illuminates, you know it's time for another Echogear power strip.
The easiest of installations, simply plug the unit into a wall socket. There's also a funky green glow on both sides when plugged in. This is a gentle reminder to let you know that the protection is active and grounded.
Bottom line:
For serious gamers, this could be a great choice as long as you can live with not needing any USB outlets as well.
Belkin 12-Outlet Power Strip Surge Protector
With an intelligent circuit design to detect and accommodate all your gaming power needs, this one of our top picks.
The Belkin 12-plug power strip surge protector features six regular outlets and six BlockSpace outlets. Plugging in those oversized adapters has never been easier. This power strip and surge protector includes three four-outlet rows. The vertical row in the center is perfect for standard plugs. The two flanking four-outlet horizontal rows pivot to create room for all types of plugs.
The 8 ft power cable has a massive 4,320-joule energy rating. This gives you excellent protection for all of your gaming devices over a longer period.
Not only suitable for a gaming pc, the device safeguards laptops, appliances, home theater, and office equipment from potentially damaging power surges.
You have to love the right-angle plug with a low profile that fits conveniently behind desks and entertainment units. The green "Protected" indicator light assures all your devices are adequately protected. The red "Not-Grounded" indicator light illuminates when the outlet isn't correctly grounded.
Even though it doesn't have any USB ports, it represents great value. Cheaper than other multiport outlets – it also has better features.
Bottom line:
This works fine if looking for a power strip only, but it is not robust enough for serious gamers. There's no built-in resettable circuit breaker.
Willnorn 12-Outlets Power Strip Surge Protector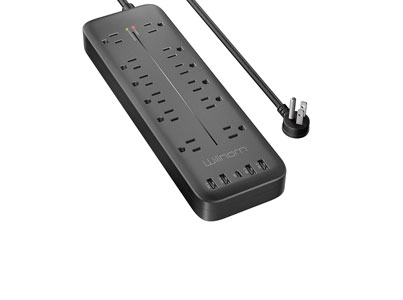 The Willnorn 12-outlet power strip surge protector is ETL approved. Backed up with 4,360 joules, this is a surge protector worth considering for a gaming pc. The three-pin plug ground connection gives you peace of mind knowing all your equipment is safe.
The "Protected" indicator LED light turns on, demonstrating all your devices are protected against maximum electrical spikes. As always, we love the flat plug that sits at a 45° angle, so it doesn't block other outlets.
We love the design of the USB charging ports. With built-in intelligent charging technology, it automatically detects your devices. These ports supply the maximum charge speed needed for all your devices.
This is a suitable, safe, and durable surge protector for a gaming PC that will save you time and money.
Bottom line:
If you are a serious gamer and want the convenience of having USB ports, this would be a great option.
Echogear 8 Outlet Surge Protector Power Strip
With 3,420 joules of premium surge protection, you can power and protect up to 8 devices at once. The Echogear 8 outlet surge protector power strip's low profile design is easily concealable behind a desk or under furniture.
When not using an outlet, the built-in safety cover keeps dust, debris, and paper clips from falling into it. The cover keeps your electronics running better and longer by filtering harmful signals out of your power supply.
Even monster-sized plugs are welcome with the Echogear surge protector. With extra space between three of the outlets, your oversized adapters won't block other plugs. We love the fact that it's wall-mountable, giving you the flexibility to have power wherever you need it.
Built with fire-proof MOV technology, a fancy way of saying it absorbs the extra voltage, it keeps your house safe. This slim design will power and protect your entire TV, home office, or gaming setup. Because it's at a great price, this model is perfect for any gaming PC setup.
Bottom line:
This is a basic surge protector but it wouldn't be very reliable as a device for serious gamers. Be warned: it doesn't cover lightning strikes and surges in the warranty.
APC UPS, 1500VA UPS Battery Backup & Surge Protector
The APC 1500VA UPS Back-UPS Pro mini-tower backup power supply provides outstanding power protection for critical electronics. This surge protector is ideal for PCs, home office electronics, networking devices, smart home devices, and gaming consoles.
The Back-UPS Pro uninterruptible power supply is top of the line when it comes to surge protection. It provides continuous power to your critical devices during an outage. This feature enables you to continue working, staying connected to your network on a gaming PC.
Whether it's an Xbox, PS4, gaming PC, or connected hard drives, these will all stay on if the lights go out.
In the event of sudden power loss, this device will give you the time to save documents and shut down your computer without the harsh impact on your electronics. Resettable circuit breakers allow easy recovery from overloads. There is no need to replace a fuse.
What we love about this device is the LCD graphics. The device displays text and mimics diagrams displaying modes of operation, system parameters, and alarms. The design of the transformer block spacing will connect bulky transformer block plugs without covering up other outlets. Everything you get is well worth paying the extra money just knowing you can keep going during a power outage.
The downside, of course, is that it doesn't provide any USB ports or AC outlets.
Bottom line:
The internal fan is not adequate to prevent the unit from sensing an over-temperature condition, so you often get an F07 code. For the price, there are better options in the marketplace.
Plugable Surge Protector Power Strip
Stylish and safe, what's not to like about this pluggable surge protector power strip?
The Plugable 12-outlet power strip with a 2-port USB charger (PS12-USB2B) helps expand and declutter all your power needs. Offering 12 US 3-prong grounded power outlets with sliding safety covers, you will love the sleek design. The lengthy cable makes it easy to create the perfect all-in-one power setup for a gaming PC, in addition to other home or office needs.
The sleek black design with sliding safety covers protects users from accidental contact. The cover also keeps dust and debris away from unused outlets. Four widely spaced outlets are dedicated to accommodating large power adapter bricks.
The built-in 10.5W 2-port USB chargers are suitable for Android, Apple iOS, and Windows mobile devices. The surge protector is covered by a 24-month limited warranty as well as Seattle-based email support. With 4,320 joules, it's one of our favorite gaming PC surge protectors at a great price.
Bottom line:
Although this surge protector ticks all the right boxes for gaming, the "protected" light does not mean you are protected. Great for use in a living area -- too bright at night for a bedroom.
Belkin 12-Outlet Pivot-Plug Power Strip Surge Protector
The Belkin 12-Outlet Pivot-Plug Surge Protector will protect multiple electronic devices from surges and spikes. Boasting 12 surge-protected outlets, it provides robust protection for all environments. This surge protector caters to computers, workstations, home theater systems, broadband modems, printers, and everyday household electronics. We do like the cord-management clip that helps to keep cables organized. Plus, it does have a rotating outlet design to allow extra room for larger AC adapter blocks.
Although it has a lifetime warranty and a $300,000 connected equipment warranty, most surge protectors will wear out within 3-5 years. We like the fact that it has an 8 ft cord -- those extra two feet can come in useful. Unfortunately, it doesn't have any USB ports.
The downside for us is that it doesn't always cater for extra bulky, oversized adapters without covering other outlets. With a 4,320-joule energy rating, the Belkin 12-outlet pivot-plug makes it suitable for gaming environments. Not our top choice for a gaming setup.
Bottom line:
Some consumers have had problems with the manufacturer not recognizing the warranty. Not one of our top recommendations for gamers, even though it has a 4,320-joule energy rating.
Power Strip, Bototek Surge Protector
If you want to charge your devices faster, you might want to consider the Bototek power strip surge protector. With an extra-long heavy-duty cord, there's comfort in knowing it's ETL listed and FCC certified.
For a great price, it includes intelligent circuitry with built-in voltage sensing. This ensures it detects and responds to all your electronic devices' power needs. You'll find of the ten AC outlets, only two are designed with wide spacing to accommodate large adapters.
This surge protector has a lighted on/off switch that includes integrated circuit breakers for overload protection of all ten outlets. We love this surge protector because it can be mounted on walls, baseboards, and furniture. Because it meets the minimum of 2,000 joules, it's suitable for a gaming PC. If you are looking for a surge protector on a budget, this is a perfect choice. There's not much not to like, especially if you have odd-shaped plugs.
Bottom line:
Okay, for gaming, but don't rely too much on the USB ports. They charge an iPhone or iPad as expected but then deplete so fast compared to charging them with a standard iPhone charger. 
CyberPower CSHT1208TNC2 Home Theater Surge Protector
The CyberPower CSHT1208TNC2 surge protector safeguards various home theater audio and video equipment, including gaming systems. It works by diverting excess voltage away from sensitive electronic equipment and connected devices. During an AC power surge or power spike, the device prevents uncontrolled equipment shutdown commonly caused by power interruptions. Therefore it doesn't just protect gaming systems; it also has the capacity to protect HD TVs, Blu-Ray players, and other consumer electronics.
The Home Theater Surge Protector CSHT1208TNC2 provides a whopping 3,150 joules of surge protection. With 12 outlets, it's an all-in-one surge protection package for home theater equipment.
It also provides data line protection with RJ45 ports for networking and RJ11 ports for telecommunication devices such as phones, faxes, modems, and DSL lines. The gold-plated RG6 coaxial connectors also protect cable/satellite TV receivers and broadband modems.
You'll find 12 surge protector outlets complete with safety covers. The four widely spaced outlets are perfect for bulky plugs. The downside is that it doesn't have any USB ports.
It's hard not to like this as one of the better choices as a surge protector for a gaming PC.
Bottom line:
Although suitable for a home theatre setup, the plug for the surge protector says it must be located at least 30 ft from the circuit breaker in the main box.
ESHLDTY RGB Power Strip Tower
When it comes to gaming, now we are talking. The ESHLDTY RGB power strip tower surge protector meets the minimum recommended 2,000 Joules for a gaming PC. Who knows when someone could accidentally spill a beer, soda, or water in the middle of a game. Therefore we love the fact it's a waterproof and shockproof charging station.
This surge protector features a 20W USB-C port which is compatible with the latest iPhone. Rest assured, it will charge mobile devices two times faster than the original charger.
The added feature is that it creates different atmospheres by tapping the independent LED controller on the top. This activates a different color and rhythm, so it's a perfect vibe creator for gaming or a party. The colored lights put on a mesmerizing display every time it picks up on a sound. The multicolored lights will synchronize with music from any source nearby. You'll find your friends and neighbors asking where they can get one too.
It has outstanding value for its price, with no real negatives.
Bottom line:
Charging a phone only really works if charging in a horizontal position. It can't charge in a vertical position because there is no room for the cord. If concerned about water protection, this is the go.
CyberPower EC850LCD Ecologic Battery Backup & Surge Protector
Compact with standby topology, the CyberPower Ecologic EC850LCD provides battery backup and surge protection for desktop computers, workstations, networking devices, and home entertainment systems. Due to only having 526 joules, we would be hesitant to use a gaming PC as it's likely to burn out quickly.
It does feature a multifunction LCD panel that displays detailed information on the condition of batteries and power conditions.
Uniquely the CyberPower EC850LCD ecologic battery backup and surge protector has 12 outlets, offering three protection modes. Six outlets are battery and surge-protected, three outlets are protected with ECO modem, and the remaining outlets are surge-protected only.
When the battery backup detects that a device is off or in sleep mode, surge-protected outlets will automatically be turned off. The EC850LCD comes with a three-year warranty (including batteries) and a $100,000 connected equipment guarantee.
For the price, not having USB outlets is disappointing. This is not our favorite surge protector, nor do we recommend it for gaming PCs due to it only offering 526 joules.
Bottom line:
Don't rely on the stated overload. This particular model can't handle anywhere close to the rated load -- more like half of that. On paper, this looks good, but it's not advisable to use this surge protector for serious gaming.
Power Strip Tower, NTONPOWER Surge Protector
Unlike a regular power strip, the vertical tower NTONPOWER Surge Protector provides sufficient space for each plug that saves space and declutters your workspace. The stylish tower design gives you an accessible, sleek, and modern look that matches any decor.
The NTONPOWER tower power strip surge protector is equipped with eight AC outlets and five fast-charging USB ports. A single USB charger can charge up to 2.4A, suitable for cell phones, tablets, and other USB devices. With a 13A heavy-duty extension cord rated 1625W, this tower power strip meets all your charging needs for home and office. Beware, if thinking about using it for a gaming PC, it only produces 525 joules. Therefore it won't last as long as those with a higher joule rating.
The power charging station has independent switches on each side that can be controlled separately. You don't need to plug and unplug the devices or appliances frequently, and it won't affect the normal operation of other devices.
FCC & RoHS approved, this power surge protector is made of top-grade 1382°F flame-retardant materials.
Bottom line:
This device is far more suited to a home office environment rather than for gamers. Keep in mind, you are required to write a review to activate the final 30-48 month warranty.
What to Look For in a Gaming PC Surge Protector
Here's a summary of what to look for in a gaming pc surge protector.
What is a Surge Protector?
A surge protector is also known as a surge suppressor. It's designed to protect electrical devices from being damaged from voltage spikes. A surge protector regulates the voltage supplied to the electrical device like a gaming PC or Smart TV. It works by blocking or shorting the voltage spike by grounding voltages above a safe threshold.
Surge Protectors vs. Power Strips
There is a difference between power strips and surge protectors. A power strip is typically cheaper and acts as an expansion of a wall outlet. They usually have a circuit breaker (on/off switch) of some sort but typically don't offer any real "protection" from electrical issues. It's just like plugging your electronics and appliances directly into the wall.
Like power strips, surge protectors are relatively cheap as well. However, they offer some level of protection against power spikes. How much and how well varies considerably.
Number of Sockets
If you're into gaming, you're always going to need more outlets. We recommend that you go for a minimum of 6 AC outlets. Just your PC, monitor, printer, and desk light already take up four slots. That only leaves you with two more outlets for charging things like your mobile phone, iPad, smartwatch, headsets, or other devices.
You need extra outlets if you have additional monitors, cable modems, security cameras, switches, and routers.
Consider also getting a surge protector with wider spacing between sockets or sockets that can be rotated to accommodate oversized and chunky plugs.
Warranty
Most people don't consider the warranty period when they purchase electronic appliances. That is until something happens. Be sure to get a device that comes with comprehensive warranty coverage that includes connected devices. If something untoward happens, claiming that warranty can be problematic. Therefore, to safeguard yourself, ensure your equipment is also covered by household insurance.
EMI/RFI Noise Filtering
Electromagnetic Interference (EMI) and Radio Frequency Interference (RFI) is the radiation or conduction of radiofrequency energy. This unwanted electronic noise is produced by electrical and electronic devices that can interfere with adjacent equipment's operation. EMI and RFI can get into A/V equipment either along the mains wiring or radiated through the air.
An AC power EMI/RFI filter can only remove noise that is conducted along the mains wiring. The best power conditioners can't stop disturbances that get into an A/V system from radiated RF through the air. Nor can they stop disturbances via signal cables, or because equipment has a "Pin 1 problem".
Clamping Voltage
Clamping voltage is a process through which equipment or devices are protected from electrical surges. Clamping voltage refers to the maximum amount of voltage that can pass through a surge protector or electrical breaker before it restricts further voltage from passing to a device or computer.
330 volts is the lowest rating allowed by the UL. This rating must be stated on the unit. The lower the number, the better. Some manufacturers use a rating called "let-through voltage". This appears to present superior performance, but UL does not validate this terminology.
High Joules Rating
Joules represents the number of surges a power strip can take before it needs to be replaced. A high joule rating means it's capable of absorbing more "hits" when a power spike occurs. The higher the joule rating of the surge protector, the longer the lifespan it has. Therefore the higher the joules, the longer the surge protector should last.
While having a surge protector with a high joule rating is not the most important criteria, look to get one that could protect your gaming PC for a longer time. When considering a gaming PC surge protector, we recommend you choose one with at least a 2,000 joules rating.
Response Time
The response time of a surge protector is measured in nanoseconds. This is the amount of time it takes for the surge protection to kick in. The shorter the response time, the better you are protected. A longer response time means there is a higher chance of your connected devices getting hit by power spikes.
USB Charging Ports
Most people have USB-based devices. Having two USB charging ports integrated into a power surge protector allows you to charge your phone and another USB device while having active surge protection for your gaming PC.
Wall-Mounting Capability
If you don't have sufficient desk or wall space for a long surge protector or one with a big footprint, look for one that you can mount on the wall. This allows you to create an efficient workspace if you are an avid gamer with lots of gaming equipment.
Power Cord Length
Nothing is more frustrating than a power cord that can't reach your outlets. Unless you operate a gaming PC in a small room, you won't have easy access to all the A/C outlets on the wall. We recommend a minimum of six feet.
What does a surge protector do?
A surge protector is an essential piece of equipment, especially if you have any expensive electronics like a high-end gaming PC. While it does offer additional outlets, like a power strip does, a surge protector provides even more functionality. A surge protector is designed to keep the devices plugged into it safe from power spikes and surges, which can damage or destroy the delicate internal components.
A surge protector is designed to shield your electrical devices from dangerous power spikes. When you plug your devices into the protector, it serves as a barrier between your equipment and the oversupply of voltage coming through the wall outlet.
While the goal of a surge protector is to keep devices safe from power spikes, there are additional benefits. Most surge protectors have several outlets, so they also function as power strips. You can find surge protectors that have USB ports for fast charging, and some even have integrated wireless charging pads.
How does a surge protector work?
Power fluctuations happen in most homes' electrical systems. Sometimes they are just due to irregularities in the local electrical grid, but lightning can also cause them. Power surges can happen when something damages a part of the electrical grid, like a power line, or if your home's circuit breakers don't trip when they're supposed to.
When these power surges go through a home's electrical system, they also increase the power going through the electrical cords of any devices plugged into the home's outlets. Without a surge protector, these power spikes flow right into the device's internal electronics, causing damage.
Power spikes can significantly reduce the lifespan of any device, and big surges can immediately destroy electrical equipment. A large enough power surge could even start an electrical fire inside your computer, gaming console, TV, or home theater equipment.
A surge protector can detect excess voltage coming into it from the wall outlet. If the power exceeds a certain amount, the surge protector absorbs the extra energy and routes it back to the grounding wire. It passes along the correct amount of power to the devices plugged into it, keeping them safe from excess energy that can fry internal components.
Do surge protectors work?
You can trust a surge protector to keep your devices safe from power spikes as long as you pay attention to some essentials. It's vital to purchase a surge protector that has enough capacity to protect your devices. For a high-end gaming PC, look for a protector with a rating of at least 2,000 joules, which is the amount of energy it can absorb. Make sure to plug the surge protector in properly to an outlet that accommodates the grounding wire. Never daisy-chain surge protectors together or plug in high-draw items like microwaves or appliances.
Your surge protector will keep your devices safe as long as it still has the capacity to absorb extra voltage. Once its capacity is reached, through a single catastrophic event or several smaller spikes, it can no longer protect your devices. It's a good idea to replace your home's surge protectors every few years.
How long do surge protectors last?
A surge protector is designed to absorb a certain amount of energy. The joule rating indicates the amount of power that a surge protector has the capacity to absorb. Once the protector has absorbed this much energy, it can't absorb any more. Any device that is plugged into a surge protector that has reached its capacity won't be protected from power surges, because the surge protector is incapable of handling any of that extra energy.
The lifespan of a surge protector is tied to its energy-absorption capacity more than to its age in months or years. In a home with stable power and very few events that cause spikes (like lightning), a surge protector may be able to protect devices for years before reaching its absorption capacity. However, if your home's power often fluctuates or you live in an area with frequent severe weather events, your surge protector may reach its capacity in less than a year.
Are surge protectors necessary?
Yes. All homes experience power spikes. These surges can have natural causes, like lightning, or come from a poorly regulated electrical grid. Sudden energy spikes are not good for most electronic devices, like computers. Power surges can shorten the lifespan of computers, home entertainment equipment, and gaming consoles.
If your gaming PC isn't protected against power surges, even a single event could cause you to lose data or files. A powerful surge could immediately destroy your computer. Most gaming PC systems are expensive and contain a wealth of information in the form of save files and other data. Leaving such a valuable piece of equipment unprotected is unwise.
A good surge protector for your gaming PC will cost far less than the computer itself. This small investment ensures that your valuable gaming system can withstand the normal power fluctuations of your home and the significant surges that occur during storms and other events.
What not to plug into a surge protector?
Surge protectors are invaluable for keeping computers, gaming consoles, and home entertainment equipment safe from power surges. However, there are some things that you should never plug into a surge protector:
Power strips, other surge protectors, and extension cords
Hairdryers, flat irons, and curling irons
Hot plates and slow cookers
Toasters, coffeemakers, blenders, microwaves, and other small kitchen appliances
Large appliances like refrigerators, ovens, and dishwashers
Air compressors
Portable heaters and air conditioners
These items aren't safe to plug into a surge protector. Doing so can damage the appliance and/or the surge protector. It can also be a fire hazard.
Generally, surge protectors aren't designed to handle devices with extremely high power draws, like microwaves, hair styling equipment, and microwaves. Large appliances should have their own dedicated outlets. Portable AC units and heaters are designed to cycle on and off frequently, and they draw a large amount of power whenever they turn on.
Frequently Asked Questions About Gaming PC Surge Protectors
Have questions about choosing a surge protector for your gaming PC? Here are some expert answers.
How many joules of gaming surge protection do I need?
The joule rating of a surge protector tells you how much energy it can handle, so a higher joule rating equals more protection. For a gaming PC, it's best to choose a surge protector that has a rating of at least 2,000 joules.
Can you plug a gaming surge protector into a surge protector?
No. You should never plug any type of surge protector into another surge protector. Doing so could overload the electrical circuits and cause a fire.
Can you plug a gaming surge protector into an extension cord?
In theory, yes. However, it's generally best to plug a surge protector straight into a wall outlet. If you decide to use an extension cord, make sure that the cord has as least as much load capacity as the surge protector to avoid creating a fire hazard.
Are all power strips surge protectors?
No. While power strips and surge protectors look similar in many cases, they aren't the same thing. Both types of equipment usually have several outlets that allow you to plug in many devices, but only surge protectors keep computers and other electronics safe from power surges. A power strip doesn't offer any type of protection.
Do gaming surge protectors go bad?
Yes. All types of surge protectors eventually need to be replaced after they've absorbed energy up to their capacity (indicated by the joule rating). Once the protector reaches this limit, it's incapable of absorbing more energy and protecting your devices.
How to tell if a gaming surge protector is bad?
Unfortunately, it's extremely hard to tell if your surge protector is "bad" and incapable of protecting your PC. Many models have an LED indicator that is supposed to show whether your device is protected, but these lights tend to be unreliable. Most experts recommend preemptively replacing surge protectors approximately every few years.
What does a gaming surge protector look like?
Surge protectors can look different depending on the manufacturer and capacity. However, most of them have a power cord and several outlets that you can plug your devices into. Some models have USB ports along with standard power outlets. You can also find surge protectors that accept phone or DSL lines.
What is a good surge protector for a gaming PC?
Your unique PC setup will dictate which surge protector is best for you. Look for a capacity of at least 2,000 joules, a UL safety rating, and a solid warranty. Choose a model that has enough sockets for your devices and USB ports for convenient charging.
Conclusion
All of your home appliances and electronics are at risk of being zapped by a power surge, not just a gaming PC. If the surge is powerful enough, it can permanently damage your electronics by frying the circuits or melting the plastic casings.
Prevention is always better than cure. It's a smart move to purchase a power surge protector for computer gaming suitable for your individual needs for a small cost compared to electronics' cost.
Surge History
The surge protector is, surprisingly, not a new invention. Even before the famous incident with Ben Franklin and the lightning storm, electricity was a topic of conversation. 
Surge protectors were first invented in the 1940s by a man named Harold P. Kopp. Kopp initially got his patent for a device that he called the Zap Trap, the first known electronic device that actively suppressed voltage surges. 
Before the surge protector, people used dime-sized objects called metal oxide varistors to keep electronic devices safe from dangerous surges. Typically you would solder the device to the wire that came up from a plug, and it would absorb the shock of any waves. 
Inspired by the need for something more substantial to protect electronic devices from power surges, Kopp started working on a solution. The result was an early version of the surge protector that people still use today. 
Kopp's original device was explicitly intended for use on a television set. The device looked like a small box. You would first plug it into the wall and then plug your television into the box. 
An electronics company stole Kopp's design at one point. Kopp filed a lawsuit for patent infringement which he won and received a big payout for on royalties.
Surge protector technology has changed quite a bit over the years. The surge protectors in circulation today are much more refined and practical. You can use them for all electronic devices, not just your television set.
Do PCs Have Built-in Surge Protectors?
Most modern PC components do have built-in surge protectors of some kind. They are not the most effective surge protectors, however. They will work to provide an elementary level of protection but are not capable of defending against a much more significant surge. 
Large or powerful surges could result in the loss of your entire PC system. A power surge left to its own devices could mean that all of your digital data gets fried. Although internal protections exist, the PC surge protector is not strong enough to protect against worse surges.
So even though most PCs have some built-in protection, it's still recommended to use a more stable surge protector. Surge protectors are vital if you use your PC for gaming.
Power Surge Causes
Power surges are unfortunate occurrences that affect electrical equipment of all kinds. It's not easy to predict when a power surge might strike, and a surge protector is the best way to protect against them effectively. 
A few common causes of surges include:
Bad wiring: if you have any damaged or exposed wiring, your home may be susceptible to frequent and damaging power surges until the situation is rectified. 
Lightning: when lightning strikes, it can stimulate a power surge of epic proportions that could potentially damage every appliance in your house. 
Other extreme weather: extreme weather is one of the most common causes of power surges; even snowstorms can bring about a power surge.
Tree limbs: when tree limbs touch power lines, a slight surge could result. The danger arises when multiple surges occur back-to-back. Over time, your home appliances will suffer. 
Squirrels: squirrels aren't alone in their ability to cause severe damage; small animals of all kinds can make their way into transformers and chew away at the cable housed inside.
Power outage: a power outage, even a brief one, can result in a surge when it trips a circuit and brings out a sudden burst of electricity.
There are other common causes of power surges. An overload is one of the more popular reasons that a power surge might occur. Like a power outage, overload can trip the circuit and cause severe electrical damage. 
Plugging Into the Wall
You can plug your PC directly into the wall if you have good, high-quality PSUs. The protection that PSUs provide is minimal but is effective at preventing smaller surges from getting to your device and your digital data. 
The PSU pulls the power from the wall outlet and then circulates it to your PC. Quality PSUs are essential because that's the only way for your unit to get the ability. The equipment won't function if it doesn't have power or enough power. 
Although PCs have built-in protection, you still need to consider having an actual surge protector hooked up in case larger surges come through your system.