How Do I Choose the Best Fiber-Optic Cable Tester?
A fiber-optic cable tester is used primarily by electricians to measure the amount of power a fiber-optic cable is generating. A tester's accuracy is a major concern, because some testers are very accurate while others provide an average reading over several hours. Most electricians test and work on many different cables at once, so a tester with internal memory may make it easier to keep track of all the power measurements. Being able to hook the tester up to a computer allows users to upload and work with the measurements. Most testers are hand-held, so battery life may become an issue on long jobs.
Accuracy is a major consideration when choosing a fiber-optic cable tester, because some tester units define accuracy differently. Some units are made to measure a fiber-optic cable for many hours and provide an average reading. Others are made for a quick, on-the-spot test, which makes the tester accurate the moment it is used, though the power level may fluctuate. If measuring long-term power generation, then the average amount may be better; if short-term, then the on-the-spot tester may be better.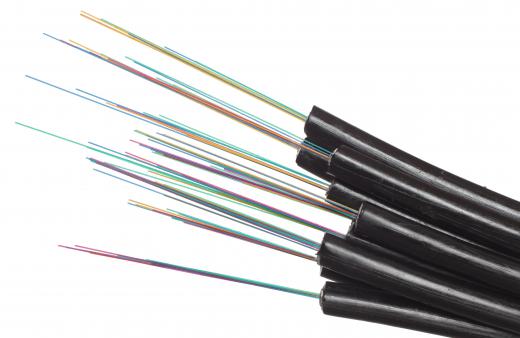 A fiber-optic cable tester is commonly used on more than one cable during a project. To keep track of measurements, the user may carry around a pad of paper or try to remember the numbers. This can lead to inaccurate readings and is inconvenient. Getting a cable tester with an internal memory will ensure the device remembers the readings so they can be quickly accessed when needed. There is typically a limit to how many measurements can be remembered at once — between the hundreds and thousands — and the user should get a device with enough memory for common projects.
If such a tester can be hooked up to the computer, then the user will be able to upload the measurements. This enables the user to plug the power readings into programs that may be needed to further a project. Measurements can still be added into a computer if the tester does not have computer support, but they must be added manually.
Most fiber-optic cable tester units run on batteries. This device uses very little power to test fiber-optic cables, meaning it has a long battery life when compared to other devices, though its lifespan is still limited. The common lifespan is between 20 and 100 working hours, and the user should choose a cable tester that lasts long enough to satisfy common projects.
AS FEATURED ON:
AS FEATURED ON:

By: Witold Krasowski

Fiber-optic cables carry coded information through flexible tubing.

By: Sudheer Sakthan

A fiber-optic cable tester is used primarily by electricians to measure the amount of power a fiber-optic cable is generating.