How Do I Choose the Best VCR Converter?
If you have a lot of old video home system (VHS) cassette tapes laying around, and want to find the best video cassette recorder (VCR) converter to preserve your recordings, the most important factors to take into account are your budget and technical expertise. The easiest type of VCR converter to use is a dual-deck type of unit that has one slot for a VHS tape and another for a compact disc (CD), digital versatile disc (DVD) or other storage medium. This type of converter will typically not result in the highest quality transfer, but may be the best choice if you do not have a lot of experience with computers and other technology. The best results are often achieved by using a computer equipped with a digital capture device, editing software, and a DVD burner, though that process is much more complicated than a dual-deck VCR converter.
VHS cassette tapes have a definite shelf life due to the nature of magnetic tape, and VCR technology has been largely replaced by disc based digital formats. If you have old home movies or anything else recorded on VHS tapes, then you may want to consider obtaining some type of VCR converter. It is possible to have your old tapes converted professionally, though it is usually less expensive to just buy your own converter if you have a big library.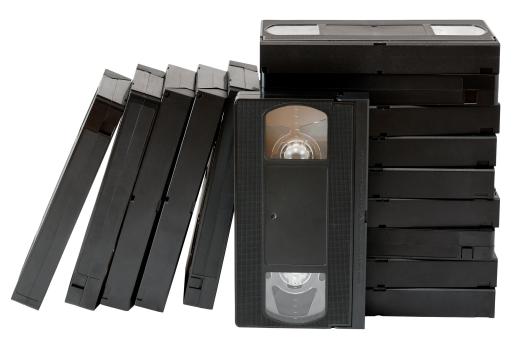 Most commercially available VCR converters are designed to record from VHS tapes to DVD discs at the press of a button. Some use different types of discs, or hard drive based storage media, and you will need to make your decision based on how you want to store your movies. These units are typically very simple to operate, so if you have been comfortable recording onto VHS tapes in the past you should be able to operate this type of VCR converter. The picture and sound quality may not be as great as you would like, though you may achieve better results by choosing a unit that has four heads instead of two.
If you have a little more technical expertise, and are comfortable using a computer, then you may want to consider a different method of converting VHS tapes. This process actually turns a computer into a VCR converter by using a digital capture device, editing software, and an optional DVD burner. It is more complicated to use this method, and the individual pieces need to be purchased separately if your computer does not already have them, but you will typically be able to achieve a much higher quality of sound and audio on the transfer. Choosing a video capture card and editing software as a VCR converter can also allow you to store your movies on a hard drive and burn copies to DVDs or flash drives whenever you like.
AS FEATURED ON:
AS FEATURED ON:

By: windu

Experience is a factor when choosing a VCR converter for VHS tapes.

By: toocan

VHS converters make it possible to watch old home movies using a standard DVD player.