How do I Upgrade Computer RAM?
When a computer is running slowly, it is likely in need of more memory, or RAM. Computers are sold with about a quarter of the computer RAM they can support. Upgrading computer RAM can be done by a novice, as it doesn't require any technical knowledge. All that is needed is a RAM module, specific to your computer, an antistatic wrist strap and a screwdriver.
The first step in upgrading your computer RAM is to learn what type of module is needed, then purchase it. You can learn what type of computer RAM you need by looking in your computer manual. If you no longer have the manual handy, you can check online at the Crucial or Kingston websites.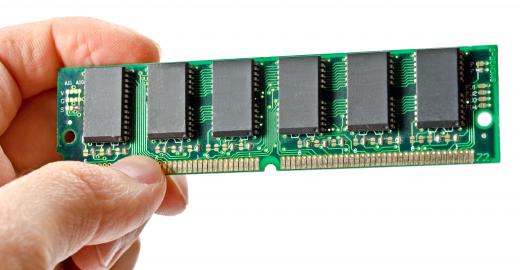 Turn off the computer and unplug the main power supply. Use a non-magnetic screwdriver to loosen the screws and open the computer case. Although it's not guaranteed to happen, a magnetic screwdriver may destroy the sensitive components of the computer. It isn't worth the risk. If a screw is attracted to the tip of the screwdriver, it is magnetic.
Before you install the computer RAM, you will need to ground yourself with an antistatic wrist strap. This will prevent any static electricity you produce, from discharging and damaging the computer circuits. Wrap the antistatic wrist strap around your wrist and attach the other end to the computer case. Antistatic wrist straps are sold at any store that sells computer components.
Check your computer manual or the Crucial or Kingston websites to determine the order in which to fill the RAM sockets in, as the order varies by computer brand. If inserted in the wrong order, the computer may not recognize the added RAM. If it is necessary to remove a RAM module, push down on the clips located on each side of the socket.
Hold the new RAM module by the thin edges. Hold down the clips on the sides of the module sockets and insert the computer RAM by lining up the indentation on the module with the extrusion on the socket. Push the RAM module in until it clicks.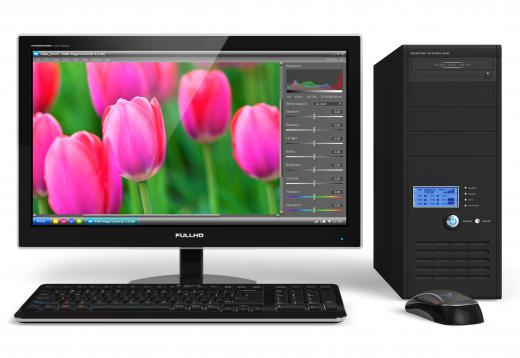 Replace the cover on the computer case. Plug the computer in to the electrical outlet and power it up. If the new computer RAM is installed correctly, it will register on the monitor. If it wasn't recognized, you will need to enter the CMOS setup program and tell the computer what to look for. This is done by following the prompts that appear on the screen.
AS FEATURED ON:
AS FEATURED ON:

By: Sergey Dashkevich

A RAM card.

By: vinsen

Adding computer RAM may allow for a larger buffer to improve media streaming.

By: Oleksiy Mark

If the new RAM is installed properly, it should register on the computer monitor.

By: charnsitr

Adding RAM -- or Random Access Memory -- to your computer can increase its performance.