What are Audio Cassette Recorders?
Audio cassette recorders are electronic devices that are used for recording voice or music onto a cassette tape. They became much less common after the development of digital recorders, which use small memory cards within the devices to record, but audio cassette recorders are still sometimes used for various purposes. This type of cassette recorder is typically very inexpensive.
An audio cassette recorder is typically a small device powered by batteries; larger cassette recorders that plug into the wall are not very common. It generally features space for one cassette tape, along with a few simple buttons including play, pause, stop, rewind, fast forward, and record. These recorders are designed to be compact, and to fit easily into a purse or bag.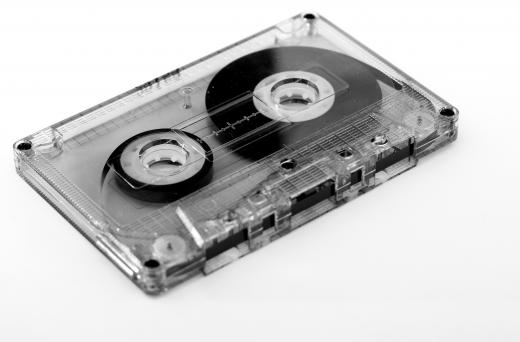 At one time, audio cassette recorders were frequently used to create back-up copies of cassette tapes, to create mix tapes, or to record songs off of the radio. These recorders are now rarely used for these purposes, however. Instead, audio cassette recorders are most frequently used for dictation purposes, such as by students, medical professionals, or legal professionals.
When used for dictation, these devices are especially convenient because they allow immediate rewinding to check the accuracy of the notes. It allows students, professionals, or anyone else who needs to use a memory device to quickly and easily make a note of something without needing to stop and write it down. The audio cassette recorder will then allow playback of the tape later on, for transcription purposes if necessary. Some professionals will transcribe their own notes, while others will hire professional transcriptionists to write out the dictation.
Audio cassette recorders were once a part of answering machines as well. The messages left on an answering machine would be recorded onto a cassette tape, and saved for later playback. This type of answering system has become fairly rare, however, now that digital answering systems and voicemail are popular. Digital memory cards tend to last longer than cassette tapes, because they are not mechanical, and constantly being rewound and played again.
Audio cassette recorders may be purchased online or in most music supply or office supply stores. They may be slightly difficult to find, however. Recorders designed for dictation purposes may be of a slightly higher quality, and these are typically purchased online along with other transcription supplies, such as a foot pedal to hook up to a computer. Audio cassette players are available for both standard and miniature cassettes.
AS FEATURED ON:
AS FEATURED ON:

By: Radoslaw Maciejewski

A standard audio cassette.

By: imagesab

Boom boxes were used to record cassettes of music off the radio.

By: Stepan Bormotov

Audio cassette players were once a popular way to listen to and record music, but the machines have since been largely replaced by digital music players.