What Are Common Uses of LED Technology?
The light-emitting diode (LED) is an extraordinarily versatile piece of technology. Its ability to produce light cheaply, efficiently, and for extended periods makes it ideal for many applications. LED technology has become the standard for the back lighting of monitors and televisions and is used in many portable electronic devices as well. Household lighting devices routinely make use of LEDs. Large arrays of LEDs are suitable for use in places where high-output bulbs would previously have been used.
LED technology is simple. An electric current passes through an LED, and the electrons in that current transfer some of their energy to visible light. LEDs use a small fraction of the power that incandescent bulbs require and are even more efficient than fluorescent lights. They have the added advantage of lasting for many years under conditions of normal use.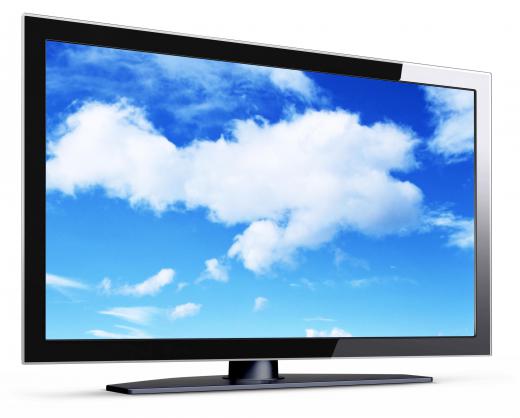 Flat-screen televisions and monitors require active back lighting in order to generate a visible image. High-intensity fluorescent bulbs were standard for this task but have largely been replaced with LED technology. Many LEDs are used in an array in this type of monitor, allowing for the illumination of only those parts of the screen that need to be illuminated, which reduces power consumption. The natural efficiency of LEDs further reduces the amount of power needed, and this type of display has a longer expected lifespan, due to the durability of the LED components.
Light-emitting diodes make excellent sources of light for any application. Early versions emitted light in only a very narrow spectrum, which made them unsuitable for some tasks. Modern LED technology is more versatile, and LEDs can be found in ordinary light bulbs, Christmas lights, and in novelty products. Individual diodes produce little light, but large arrays can substitute for bulbs of any wattage. LEDs that emit ultraviolet light can be used as party decorations.
The modest power requirements of modern LED technology have made the job of designing mobile electronic devices much simpler. Modern smart phones and tablet computers employ LEDs as back lights and as indicator lights. LED flashlights are inexpensive and provide light for a much longer period of time than do incandescent lights.
Arrays of LEDs are now used in high-power lighting applications. Many cars make use of LED headlights and indicator lights. Such lights are especially useful as indicator lights because they continue to function even if one diode is damaged. Traffic signals now often employ LED technology, as they can benefit from significant energy savings. One minor drawback of this improvement in efficiency emerges in cold climates, as LED arrays do not generate enough heat to keep themselves free of snow in the winter.
AS FEATURED ON:
AS FEATURED ON:

Flat screen televisions are often lit with LED backlights.

By: N-Media-Images

A smartphone with an LED backlight.

By: HappyAlex

Traffic signals use LED technology.

By: Alison Bowden

LED technology may be found in Christmas lights.

By: vetkit

Tablet computers use LEDs as back lights and as indicator lights.