What are Computerized Medical Records?
Computerized medical records are the digital counterparts to patient medical records kept in paper files and folders in health care offices. They are, in essence, an electronic version of the same medical records. In many cases, when a health care practitioner wants to invest in computerized records, paper medical records are simply scanned and entered into a medical records system.
Instead of documenting patient information on paper and creating a need for filing and extra space, electronic medical records are stored on a computer server. In contrast to their traditional counterparts, computerized medical records can be accessed quickly and efficiently, eliminating the need for employees to physically look for the records in an office. This, in turn, saves medical practices money, since employees are no longer expected to lose time while retrieving records. Searching for and recovering medical records is as simple as typing on a keyboard and clicking buttons on a mouse.
For professionals, the benefits of using computerized medical records are numerous. In addition to helping save time and money, digital records aid doctors to better serve the patient, as patients no longer have to wait unnecessarily while an employee searches for files. Records can be cross-filed and cross-referenced according to any number of factors. Digital records can instantly expand an office and provide a more secure location for storage of files which, when physical, are only guarded with locks.
There are also a number of personal advantages that patients may experience should their health care providers implement computerized medical record keeping. For example, digital medical records are easily accessible during emergencies. Records can be quickly updated for patients who have serious, progressive or chronic illnesses. People with digital records do not have to worry about unsecure storage facilities or the loss of records through theft, accident or natural disasters. Patients may also be able to choose who can access their files and for what purposes.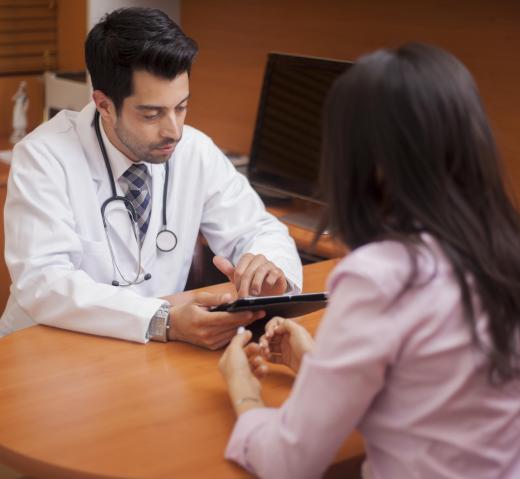 While computerized medical records may be referred to as individual "files" or "folders," the goal and the actual purpose of using this method is to have a resource devoted to storing complete and accurate information about a patient. In theory, each patient has his complete history on file in a sophisticated and secure computerized medical record system. All types of health care workers would have access to the same patient records, thereby making their jobs easier and their patients more likely to undergo proper treatment.
AS FEATURED ON:
AS FEATURED ON:

By: Konstantin Sutyagin

Computerized medical records can typically be accessed from any computer in a network.

By: Monkey Business

Medical records contain information about a patient's health and medical treatment history.

By: AntonioDiaz

Computerized medical records allow doctors to utilize technology in the exam room.

By: .shock

Medical records that aren't computerized are at risk of being lost or damaged.

By: Monkey Business

Computerized medical records may be used in lieu of paper-based patient files.

By: Tyler Olson

Computerized medical records allow doctors and nurses to access a patient's health history instantaneously.

By: xy

Unlike paper medical records, computerized medical records can be updated quickly and efficiently.