What are Dictaphone Transcribers?
In many offices and courtrooms, dictaphone transcribers are used by information specialists to record and process spoken words for the purposes of documenting various events. Dictaphones have been around since the early 1900s, and have graced the desks of business, legal and health care professionals as an important tool used for information management. Transcription equipment is most often used by physicians, secretaries and court recorders, but is also utilized by writers, teachers and other professionals to record and process spoken notes.
Although the American inventor Thomas Edison played a critical role in its invention, the first dictaphone transcribers were not officially available to consumers until 1907, when the name "Dictaphone" was trademarked by the Columbia Graphophone Company. This early version allowed users to record their voice onto wax cylinders which could be played back for later listening. This primitive device was often used to record great speeches of political and civic leaders of that time.
In the 1950s, due to achievements in technology, the dictaphone transcriber was transformed into a smaller desktop unit that used magnetic resonance tape as a recording material. Today's dictaphone transcribers can be as small as a pen and come in two forms: cassette tape or digital voice storage. In addition, many transcribers are now integrated with telephone and computer software-enabled systems, which creates a more secure environment in which to store massive amounts of information.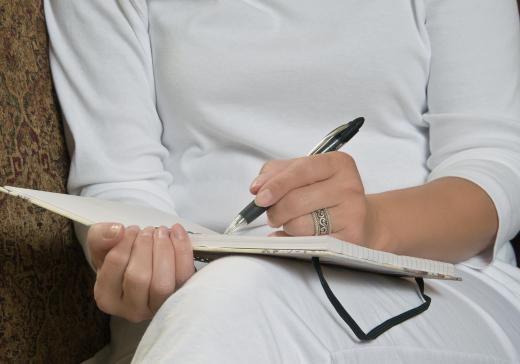 Dictaphone transcribers are found in many offices, as they easily allow users to record their spoken notes for later reference. While some dictaphone users choose to keep their records in a voice recorded format, many others use the services of a transcription service to covert the spoken records into written text. Most often, this duty is handled by an office secretary, paralegal or professional transcriptionist, all of whom are adept at listening to and recording notes into industry specific written formats.
The practical uses of the dictaphone transcriber include recording case notes for legal proceedings, physician-created reports of medical examinations and the recording of public and corporate meetings. In addition, many professionals such as writers, teachers and public speakers, use transcribers to record notes that are later translated to written works such as reports and books. Transcribers are also often used by students who wish to avoid taking written notes while in class.
With the rise in voice recognition technology and mobile devices that include voice recording applications, the traditional dictation transcriber may become a thing of the past. However, as long as there is information to be created and stored, transcription will most likely continue to be a valuable aspect of doing business in the world. Transcription as a whole will just be managed in more efficient and secure methods than old-fashioned dictation equipment can provide.
AS FEATURED ON:
AS FEATURED ON:

By: nickolae

Thomas Edison helped to invent dictaphone transcribers.

By: Mark Abercrombie

Dictaphone transcribers are used by information specialists to record and process spoken words for the purposes of documenting various events.

By: Oleksiy Mark

Audio cassettes are often used with dictation machines.