What are Different Types of Manufacturing Software?
As a modern tool to help manufacturing companies maintain control of their operations, manufacturing software has the ability to oversee all sorts of functions that help the manufacturing process proceed smoothly. From raw materials purchasing and delivery, through the production process, and on to the filling of customer orders, there are types of software that will keep the efforts of the company on target. Here are examples of the three main types of software that have proven to be the most popular and essential types for most manufacturing companies today.
The oldest type of manufacturing software that is still in common use today was originally known as Enterprise Resource Planning, or ERP software. A later generation of ERP that builds on that foundation is referred to as MRPII or Manufacturing Resource Planning 2 software. The basic function of this type of software is designed to be an asset to the sales and client care efforts of the company.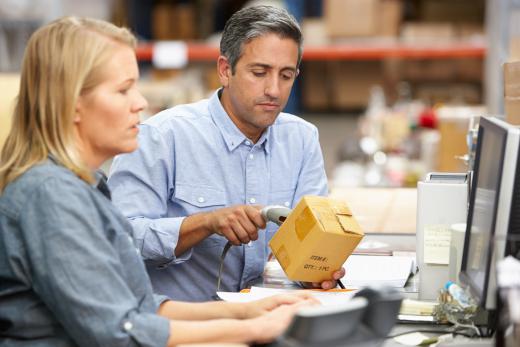 Essentially, this software allows for tracking contacts through the sales cycle, maintaining details about standing or recurring orders, and also with space to keep a complete information file on each customer. MRPII also provides for assistance in materials planning, purchase of raw materials and keeping tabs on the current inventory.
In addition to MRPII, Manufacturing Execution System software gets into the actual process of production process. MES manufacturing software packages focus on such matters as engineering processes for production, the actual production planning for various goods set to be produced, and personnel scheduling as well as product scheduling. MES also is involved in the effective creation and management of quality control processes and procedures, from taking care of the raw stock all the way through the steps involved in the manufacturing process and even into the way the finished goods are stored and packaged for distribution to customers.
The third essential in manufacturing software is known as Process Control Software. While this may sound like this sort of software would be involved with the production process itself, process control software instead focuses not on process but on the selection and maintenance of the machinery used to turn raw stock into finished goods that can be sold by the company. Process control software can help to identify new machinery to integrate into the process, either replacing outmoded machinery or as additional means of improving the quality of the finished goods.
There is no single company that produces all three types of this basic manufacturing software. Typically, a company will need to work with different suppliers in order to get the proper software for each of these three areas of responsibility. At the discretion of the manufacturer, it is possible to purchase the three different types and create a server platform that will allow each component to transfer data through one continual process. However, the design for this type of model would have to be produced and implemented by independent software technicians or Information Technology experts in the employ of the manufacturer.
Manufacturing software has made it possible for many manufacturing companies to remain competitive and offer quality goods in greater quantities. As time goes on, further developments in software offerings will not doubt yield additional ways for manufacturers to produce goods in greater quantities while still maintaining the same level of quality.
AS FEATURED ON:
AS FEATURED ON:

By: Monkey Business

Some manufacturing software includes modules that work with barcode scanners to control inventory and supplies.

By: lianxun zhang

Manufacturing execution system software is used to oversee the production process.