What are Internet Telecommunications?
Internet telecommunications are the various forms of using the World Wide Web to allow users to remain in direct contact by replicating traditional types of telephone usage. These processes are possible by implementing Voice over Internet Protocol (VoIP) technology and they first became popular in the early 1990s in the form of personal messengers. The option to speak into a microphone with a person located anywhere else in the world showed massive potential to both residential and commercial clients, and eventually, a number of small businesses appeared that took this concept a step further. Modern methods allow users to connect a VoIP telephone to an Internet connection in order to receive cost-saving alternatives over local telephone companies, and similar methods are available for cellular phones and other devices.
Even though messaging programs have rapidly lost steam since their inception in the 1990s, they are still a completely viable type of Internet telecommunications. Worldwide users still find this type of technology appealing because it is generally free to use, with the only requirement being that each party has to have the software installed on their computer system. Businesses have taken this type of Internet telecommunications a step further by implementing video conferencing for global communications with clients.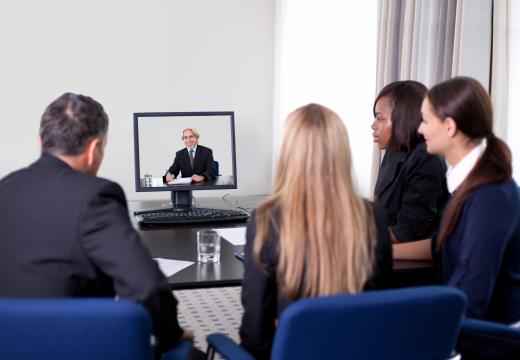 The true breakthrough in Internet telecommunications occurred when VoIP carriers began showing up around the web in the early 2000s, and their alternative to traditional telephone lines was so appealing because this service was available for a fraction of the price. While overall voice quality and additional calling features were once a serious detriment, current VoIP providers can deliver a fully digital experience that rivals even the best landlines. Features like call waiting, call forwarding, and caller identification are also available on VoIP lines.
Although the information stored on the World Wide Web is often misidentified as being stored within cyberspace, each page of data is actually located on a hard drive somewhere in the world. Computers that connect to the Internet can access any of these servers by sending and receiving packets of information, and since both audio and video can be transferred using this same process, it only made sense to replace the microphone with an actual telephone. The only limitation to Internet communications is the requirement of staying online throughout the entirety of the telephone call, so this method is not attainable in areas that do not have high-speed Internet available. Since there is practically no cost involved with VoIP technology, Internet telecommunications should eventually replace landlines completely and become the primary service on cellular phones as well.
AS FEATURED ON:
AS FEATURED ON:

Group of businesspeople in a video conference, a type of Internet telecommunications technology.

A webcam for use with VoIP.