What Are the Different Types of Integrated Circuits?
An integrated circuit (IC) is a small electrical circuit created using a semiconductor substance, such as silicon. IC chips are found in nearly every modern electronic device, and allow compact technologies including computers and cell phones to be built. There are five major types of integrated circuits.
A dynamic random access memory chip (DRAM) is a type of integrated circuit that is essential for modern computers. Most personal computers and laptops contain at least one DRAM integrated circuit, and many computers hold several. A DRAM circuit is able to store digital data while power is present. If power is cut, the information stored in the memory circuit is lost. DRAM integrated circuits commonly hold temporary computer information, such as words typed on a screen or data from a streaming video.
Microprocessor units (MPUs) are a type of integrated circuit that act as the central processing area for a computer or other device. A microprocessor circuit is usually programmed with instructions that cannot be easily deleted, even if power is lost. These core instructions allow a device to perform properly when various inputs are received. Devices such as cell phones use microprocessors to execute important tasks such as connecting to a cellular network, while computers use microprocessor instructions to boot up and interface properly with attached hardware.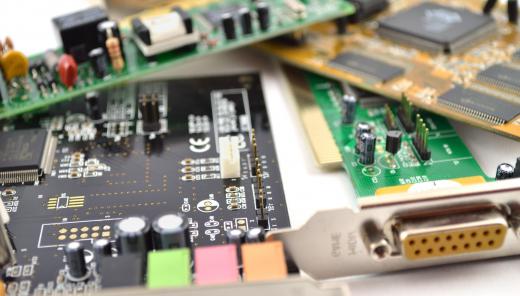 Another type of integrated circuit is the application specific integrated circuit, or ASIC. True to their name, an ASIC circuit contains digital instructions that are specifically customized to a certain purpose. ASICs contain essential programs and are similar to microprocessors, but are more specialized and limited than the chips used in computers. These types of integrated circuits are often used in single-purpose devices such as printers and car air bag units.
The digital signal processor (DSP) type of integrated circuit is specifically designed to process or interpret electronic signals. These circuits typically convert analog inputs into digital format, and filter out any signal that is not within a preset range. Signal processor microchips are common in audio devices such as cell phones and radios.
Programmable memory chips (EPROMs) are integrated circuits that are able to retain programs even if power is lost. Unlike ASICs or microprocessors, EPROM memory often receives programming only a single time, and keeps this single program for its entire use without any receiving any updates. Programmable memory circuits usually contain simple instructions for devices such as video games or handheld electronics.
AS FEATURED ON:
AS FEATURED ON:

By: Swapan

A SIM card, which contains an integrated circuit.

By: fusolino

The 5 types of integrated circuits are common in popular electronic devices.

By: Jultud

Random access memory chips and microprocessor units are examples of integrated circuits.

By: sepy

Smart phones and computers both use several types of integrated circuits.