What are the Different Types of Mobile Ringtones?
Mobile ringtones are sounds that cell phones use to alert the user of an incoming call, text message or other alert. They can come pre-installed on a cell phone or they can be uploaded onto a cell phone by its owner. Mobile ringtones can be monophonic, polyphonic, truetone or sing tone in nature. They also can be created by a cell phone owner using the appropriate software.
Monophonic ringtones are said to be some of the earliest types of ringtones offered to cell phone users. They are simple ringtones that repeat musical notes. Only one note at a time can be sounded, hence, the monophonic distinction. Since these tones are sequential and can be played in different frequencies, the ringtones are likely to be compatible with many cell phones.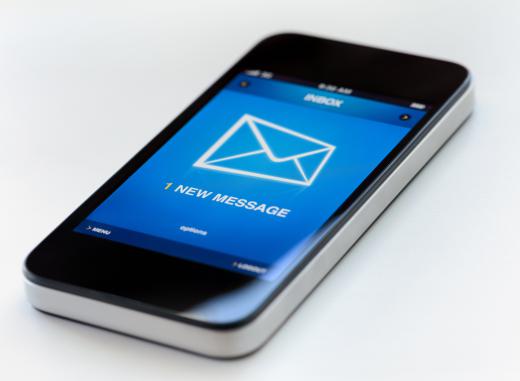 Polyphonic mobile ringtones are ringtones that can sound many different notes at once. They are capable of producing more melodious ringtones than the monophonic type. Because of the increased possibility of harmony, polyphonic ringtones can sound more like songs than single-note ringtones. Many newer cell phones are equipped to offer polyphonic ringtones.
Truetone ringtones are actual audio recordings. The most common form of truetone ringtones are segments of original songs that have been isolated and saved into MP3 or AAC formats, though they also can be sounds from real life that have been saved in formats compatible with cell phones. Truetone ringtones also can be referred to as "realtone", "mastertone", "superphonic ringtone" and "audio recording" ringtones. Advanced cell phones usually can accommodate truetone ringtones.
Sing tone ringtones also can be used on cell phone. Sing tones differ from the aforementioned tones in that they can incorporate the cell phone user's actual voice into the tone. Usually, this is achieved when a user decides to record his or her voice over a backing track, much like karaoke. Users are expected to sing along the backing track, thus explaining the ringtone's name.
Cell phone users should be aware that they also have the option to create their own mobile ringtones. Users can do this by using software that helps isolate parts of sound files or create an original composition. The resulting ringtone files can then be uploaded to users' cell phones through Universal Serial Bus (USB), Bluetooth, text messages or e-mail and used as mobile ringtones. Some Websites also provide ringtone-making services so that users can create mobile ringtones without having to download software.
AS FEATURED ON:
AS FEATURED ON:

By: bloomua

A ringtone can be sent to a cell phone as an SMS or text message.

By: Tarikh Jumeer

Mobile ring tones alert the user of an incoming call, text message or other alert.