What are the Different Types of Phone Earpiece?
A phone earpiece may consist of a telephone accessory, or a device that can be used as a stand-alone piece for communicating. Different types of telephone earpieces may include amplified headsets and headset phones. Headset earpiece devices that fit over the ear and have an attached microphone may also be used with a computer.
Many people who work in an office may use a phone earpiece consisting of a headset and microphone combined in one unit. This type of device makes it easy for individuals to have hands-free speaking options. This enables the user to do other tasks such as typing or writing while using the phone. This is a common choice of phone earpiece for those who must multi-task at work. Telephone operators also utilize this type of phone earpiece for their work.
Those who work in call centers may use another type of phone earpiece that utilizes a headset commonly placed over the head. Many of these also have a noise-canceling function that makes it convenient when used in a large area with many phone operators. Some of these headsets convert from a standard over-the-head unit to a device worn behind the ear.
Another type of phone earpiece is one used with a corded telephone. These earpieces are generally used with landline phones. There are also models used as multi-line phone earpieces.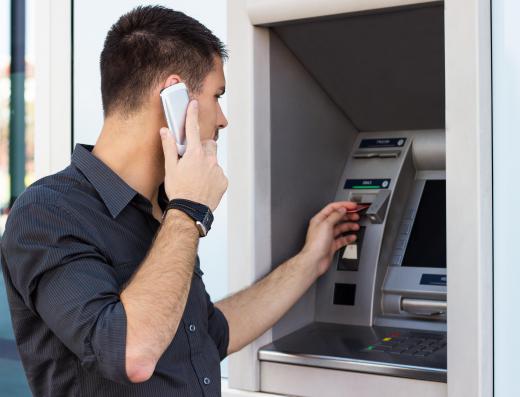 Wireless phone earpiece sets are also called cordless phone headsets. These may be used with a charging base and a transmitter that sends a signal to the phone. These devices typically will hold a charge for several hours before the battery has to be recharged.
Many mobile or cellular phones use a type of headset that incorporates what is known as Bluetooth® technology. This makes speaking on a cellular phone convenient, as it allows for hands-free use. A Bluetooth® headset is a phone earpiece that comes in a variety of styles created to be compatible with various types of cell phones. Some Bluetooth® models have a semi-open design that allows freedom of movement.
Some individuals who have difficulty hearing may choose a phone earpiece that amplifies sound. These devices are typically known as telephone earpiece amplifiers. These small pieces of equipment attach to a telephone handset. They are generally battery powered.
AS FEATURED ON:
AS FEATURED ON:

By: Alexander Kuzovlev

A phone earpiece.

By: sanjagrujic

Cellular phone headsets free up the cell phone user's hands for other tasks.

By: Media Bakery

Those who work in a call center will use a headset to free up their hands while speaking with customers.

By: goodluz

An earpiece may make it easier to take notes while talking on the phone.

By: LogicheCreative.it

A Bluetooth earpiece enables a user to engage in a hands-free phone call.