A 3D Digital Versatile Disc (DVD) player is an electronic device that plays DVDs encoded with 3D capabilities. Consumers normally purchase a 3D television and glasses along with the player for full 3D sound and images. In addition, many manufacturers are adding more features to these players, such as Internet connectivity and wireless computer networking.
The 3D DVD player is normally designed to play 3D DVDs, but it also has the capability of playing older DVD formats. Manufacturers saw the need to keep the technology backward compatible for more versatility in the home. The player attaches to the 3D television through a high definition multimedia interface (HDMI) cable; this cable connection allows the 3D signals to enter the television for producing crisp visuals and high quality sound.
All 3D DVD player models are Blu-ray™ technology based. Blu-ray™ is known for its more than 2 million pixels, as opposed to older DVD technologies with under 500,000 pixels. The resulting image on the 3D television is extremely clear and crisp, allowing the images to seem true to life. The reduced pixel counts common to older DVD players would produce a blurry image on the television screen, making them unsuitable for 3D technology.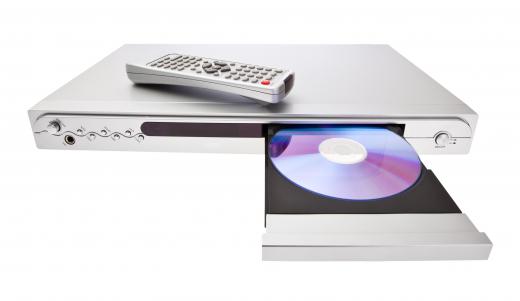 Some 3D DVD player models actually upconvert older DVDs to look and sound like they were produced in high definition (HD). These players cannot change a 2D DVD into a 3D DVD, but the resulting image and sound are enhanced for high quality viewing. Home movies saved on recordable DVDs can be played on the 3D DVD player, as well as homemade compact discs (CDs).
Many extra features are available for each 3D DVD player in the marketplace as a way for manufacturers to highlight their models' benefits. One key added feature is Internet connectivity. Consumers with movie streaming accounts can access their favorite movies through the Internet; a simple download to the 3D DVD player will instantly provide a movie to the household. Although not currently available, some movie streaming companies may be able to allow 3D movie access in the future.
Videos and movies stored on a home personal computer can be accessed through the 3D DVD player's wireless networking capabilities, or Wi-Fi. Vacation photos and movies can be viewed on the large screen television by simply accessing the files through the 3D DVD player. Family and friends can enjoy the slide or video show from the comfort of the living room sofa.
AS FEATURED ON:
AS FEATURED ON:

A HDMI® cable.

By: StockPhotosArt

A 3D DVD player is a DVD player that can play DVD with 3D capabilities.