Adding the ability to display three-dimensional (3D) images to regular smartphone capabilities, the 3D phone first entered the consumer marketplace in 2011. These phones typically represent the higher end of smartphones but add a specially designed screen that creates an illusion of depth and a camera that can capture 3D photos and videos. The devices available in 2011 use a "parallax barrier" to display 3D images and a double-lensed camera to take photos and, in some cases, video clips.
The key feature in a 3D phone is the special parallax barrier screen. These screens contain a special optical coating that reflects alternate pixels in alternate directions, working on the same principle as the lenticular 3D images used in product packaging, such as many DVD cover sleeves. The screen shows the images for the two eyes interleaved with each other, and the parallax barrier aims the image for each particular eye at that eye. Although this technology gives an excellent sense of depth, it is extremely sensitive to the angle at which viewers look through it, making it an excellent choice for a device like a 3D phone, which is typically handheld and used by a single person at a time.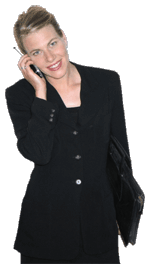 Every 3D phone available as of December of 2011 also features a back-mounted 3D camera. A 3D camera array consists of two regular camera assemblies with the two lenses mounted a short distance apart. The two cameras each capture slightly different images, representing the different viewing angles of the two human eyes. Image processing software inside the 3D phone then combines the two images into a single 3D image or video file.
Three-dimensional phones can also run other 3D applications, such as games. Although most phones have only a two-dimensional control interface, like their touch-screen, they can still display realistic 3D images. Furthermore, as of December of 2011, patents have been filed for pressure-sensitive touch screens and for devices that can be controlled through three-dimensional gestures. As technology advances, 3D phones will benefit from it.
In addition to its 3D capability, a 3D phone is also a smartphone. As such, it features memory, a processor, a battery and a radio, which enables it to communicate over cellular, Wi-Fi and bluetooth networks. Three-dimensional phones typically offer all of the same features as other 2D smartphones of similar configuration.
AS FEATURED ON:
AS FEATURED ON:

Businesswoman talking on a mobile phone