A color scanner is a device capable of capturing images in color and converting them into digital images that can be read by a computer for display and storage. Though there are black and white only scanners, almost every scanner available on the retail market is a color scanner. There are many different types of color scanners, including flatbed, handheld, sheet-fed and drum scanners. Drum scanners are used most commonly in the publishing industry for capturing extremely detailed images. The most commonly used type of color scanner for home and office use is the flatbed scanner.
A color scanner is designed for digitizing and transferring color images to the computer. Many people scan black and white or gray scale images such as documents to their computer and do not utilize the scanner's color capability. However, a color scanner is necessary if you wish to store pictures taken with anything but a digital camera on your computer.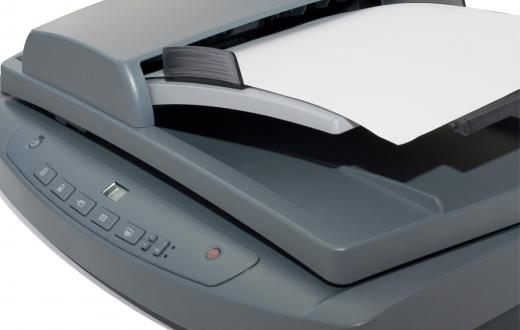 Some of the terminology associated with color scanners includes resolution and bit depth. Resolution is measured in dots per inch (dpi), and most flatbed scanners have a resolution of at least 300 x 300 dpi, and frequently higher. The sharpness of the image depends mostly upon the brightness of the light source and the quality of optics in the lens. Bit depth, or color depth, refers to the number of colors the color scanner can reproduce. Every pixel in an image requires at least 24 bits to achieve "true color" and most standard color scanners provide at least that.
With the purchase of a color scanner, imaging software should be included. The imaging software acts as a communicator between the computer and the scanned image. With imaging software, a scanned image can be edited in appearance, including color, brightness, sharpness, and display size, but text cannot be edited or changed without the assistance of optical character recognition (OCR) software. The most popular imaging software packages include OCR software for editing text scanned from a document.
Scanners to suit every need, whether personal or business, can be found in a range of prices and designs. A very basic color scanner can be purchased from a computer or office equipment retailer for as little as 100 US dollars (USD), and more elaborate, better quality scanners can be priced as high as 1000 USD.
AS FEATURED ON:
AS FEATURED ON:

By: Konstantin Shevtsov

Most flatbed scanners have a resolution of 300 x 300 dpi for scanning colors.