What is a Digital Subscriber Line?
A digital subscriber line (DSL) is a technology which allows people to transmit digital data along with voice along a phone line. There are a number of different technologies under the umbrella of DSL service, with the most common being an asymmetric digital subscriber line (ADSL). In fact, many people use the term "DSL" when they are actually referring to an ADSL, illustrating how widespread this particular form of the technology is. Many people around the world use this technology to access the Internet, both at home and in office environments.
This technology allows people access to high speed Internet using existing wiring. Competitors such as cable and satellite Internet services may require adding wiring, depending on whether or not a structure has been fitted with the necessary wiring. It is also important to note that digital subscriber line services are not available in all areas because the technology is distance sensitive; people too far away from a hub will receive a signal which is too weak to use. Many companies which provide this service are increasing the number of hubs to increase their broadband penetration and attract more customers.
Phone lines are capable of transmitting much more data than just voice. A relatively small low-frequency range is reserved for voice transmissions, leaving room for other data in the line. A digital subscriber line uses the high frequency areas to send and receive data, breaking a phone line into a stream for voice, a stream for downloading, and a stream for uploading.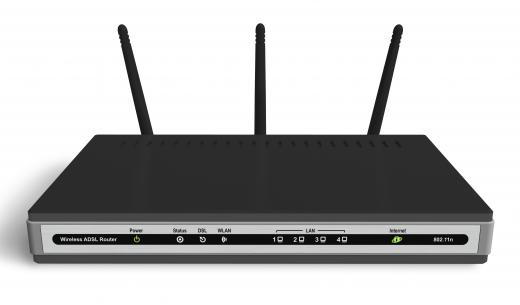 With ADSL, more bandwidth is reserved for downloading, which is why people may have noticed that it tends to take less time to download data than it does to upload it. Symmetrical digital subscriber line technology, on the other hand, reserves equal amounts of bandwidth for both uploads and downloads. Most people find ADSL perfectly suitable for their needs.
To transmit both voice and digital data, a digital subscriber line needs a filter. Filters are fitted on the phone line to split the data streams; people can plug a DSL modem into the digital data side of the splitter and a phone line into the voice data side. Modems can also be used for home networking, and may be wireless to allow people to access the Internet without needing to be directly plugged in to the modem. However, transmission speeds can be faster when wired directly into the modem.
AS FEATURED ON:
AS FEATURED ON:

A DSL filter.

By: Scanrail

An ADSL modem.

By: JackF

Many people around the world use this technology to access the Internet, both at home and in office environments.