A hot pixel is a defective pixel which remains constantly on, rather than cycling on and off like other pixels do. The term is used both to describe defects in LCD screens, and to discuss problems with the sensors used in digital cameras. In both cases, a bad pixel can vary from a mild problem to a source of extreme irritation, and the entire device usually needs to be replaced to cope with the problem.
In the case of an LCD screen, the bad pixel shows up as a bright white dot, reflecting the fact that it is not reproducing the data sent to the screen correctly. It is usually difficult to see a hot pixel unless there is a dark background, in which case it may not be a major issue. By contrast, a dead pixel, which is stuck in the off position, will show up as a small black dot on the screen. Many screens develop hot pixels over time, with some manufacturers replacing their screens if bad pixels emerge while the screen is still under warranty.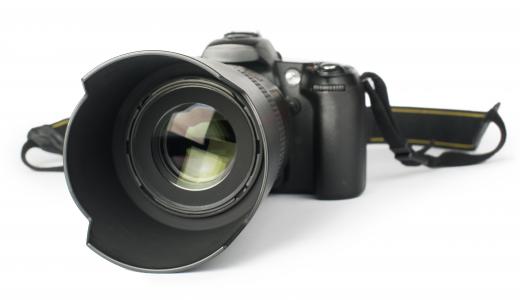 In a digital camera, a hot pixel in the light sensor does not properly sense the light which enters the camera. When the user takes a picture, the bad pixel shows up as a bright white dot. In mild cases, the problem only appears on long exposures, while a camera with a serious defect may develop a white mark in every single shot, which can be a source of considerable frustration to a photographer.
There are several ways to address the issue in digital cameras. Sometimes, it is simply necessary to replace the sensor, especially in the case of bad pixels which show up in every shot. In other instances, it is possible to use software to correct the pixel so that it will not appear in the finished image. Since many digital photographers already use software to process pictures, pixel correction may not be a particularly onerous task.
If someone notices a hot pixel and it is a problem, the first thing to do is to contact the manufacturer, even if the device is not under warranty. Some manufacturers will address hot pixels after the warranty period has expired, and they also like to get reports from consumers so that they can identify long term problems with particular models. If the manufacturer will not replace the defective device, consumers can either live with the issue or pay for a replacement themselves.
AS FEATURED ON:
AS FEATURED ON:

By: Deyan Georgiev

If a digital camera is experiencing a hot pixel, a white dot will show up on each photograph taken.