What Is a Portable Record Player?
A portable record player is a full turntable device that fits in a suitcase or is small enough to be mobile. These players have the same capacity as full-sized record players, including speakers. Portable turntables can function on their own, but a few of them can also be attached to a computer through a USB connection.
One popular version of the portable record player comes as part of a suitcase or box. The player is contained inside of a briefcase like covering that opens up to play music. Inside is a full-functioning turntable, speakers and volume control. There are several different colors and designs that date back to previous generations.
The main advantage of a portable record player is that it takes up less space than traditional turntables. Also, some traditional turntables are more difficult to find through major retailers and outlets. A portable record player is a lower-cost option for those who still have music in vinyl format that they would like to listen to.
Most portable record players are battery powered and can play a variety of record speeds. The 1950s was the first time a portable record player was introduced to the market and some of the modern versions are modeled after the originals. Although similar in function to a small portable stereo, portable turntables are seen by some as more upscale or stylish.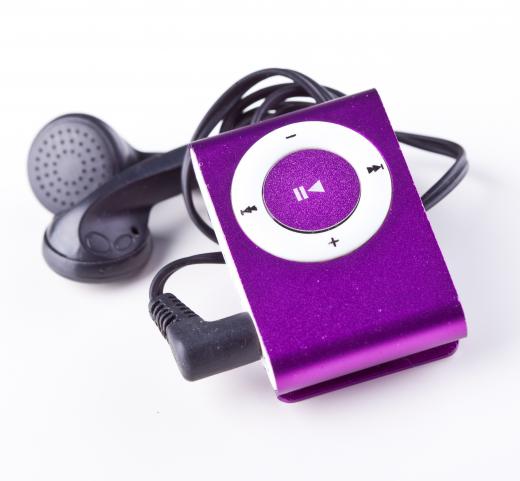 There are some portable record players that are not contained in a suitcase or box-like covering. They are more compact in size and integrate radio and wireless technology. Music listeners can toggle back and forth between their vinyl records and the latest music on the radio. Some of them have the capability of being attached to a computer through a USB port.
When a portable record player is attached to a computer, digital music files can be created from the records that are played on the device. Digital music files can be stored on the computer or transferred to a portable MP3 player if the listener wishes. This functionality gives listeners the flexibility of converting music from vinyl and storing it in one location.
Some music listeners prefer the sound of vinyl records over digital versions. At times it is more convenient and enjoyable to play music from a stereo device than it is from a computer. Portable record players can be set up and carried almost anywhere, including the garage, outdoor patios, and over to friends and relatives' houses.
AS FEATURED ON:
AS FEATURED ON:

By: macbrianmun

Portable record players can be connected to computers with USB cables.

By: Csák István

Music from a portable record player can be transferred to an MP3 player with the aid of a computer.

By: Maridav

Small players are ideal for joggers who want to listen to music during a run.