What is a Registry Cleaner?
A registry cleaner is a software program that tunes up the Windows™ operating system (OS) registry. The registry is a database of settings relative to the OS, to installed third party software, and to system hardware and driver information. The registry can become cluttered over time, storing defunct data and slowing system performance. A corrupt registry can also cause a system to freeze or crash. Using a good registry cleaner periodically can keep the system working smoothly and efficiently by deleting unused, corrupt and orphaned data.
There are several registry cleaners available online but good reason to be cautious in choosing a program. In some cases, rogue spyware is released as a "registry cleaner" and will look as though it is cleaning the registry when it is actually installing unwanted software. In other cases so-called "registry review" websites push programs because they receive a cut from each sale.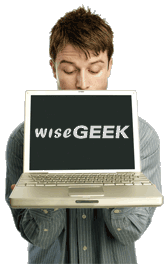 One way to check for a good registry cleaner is to consider reviews and feedback from respected sources like PC World, TuCows, Snapfiles, Cnet and sites like MajorGeeks. Compare editors' ratings and also popularity among programs. Normally the most popular programs that also have good editor reviews are the best bets.
There are two ways to get a registry cleaner: either as a stand-alone program, or as part of a utility suite. Some people prefer stand-alone programs, believing them to be more efficiently written while appreciating the smaller footprint or lack of "bloat" (unnecessary functions). Other people prefer a suite of tools grouped together in one convenient interface.
Of the tried and true shareware registry cleaners that are stand-alone programs, Registry Mechanic™ by PC Tools is one of the best known and most popular. Free stand-alones include Microsoft™'s RegClean for novices who want the job done without a lot of information, and programs like Wise Registry Cleaner Free for those who like more details and control. Piriform CCleaner is another nice, free registry cleaner that has just a few additional functions, as does EasyCleaner. Several other stand-alone freeware and shareware cleaners are also available.
Registry cleaners are also included in shareware utility suites. Suites commonly incorporate an uninstaller, disk and registry defragmenter, tweaking abilities, start-up manager, and other functionality in addition to a registry cleaner. Advanced Uninstaller Pro™, Tune Up Utilities 2008™, Auslogics BoostSpeed and RegistryEasy™ are some examples of popular suites that include a registry cleaner.
AS FEATURED ON:
AS FEATURED ON:

Man holding computer