What is a Remote Computer?
A remote computer can be best defined as any type of computer that is accessible remotely over a network rather than physically at a set destination. In layman's terms, a remote computer is a one that can be used over the Internet from a location other than at the actual computer itself. Remote computer technology has been around for a number of years; however, it is not a technology that many "general" consumers have much of a use for.
Many businesses use remote computer technology to monitor employees. By having full access to employee computers remotely, a business manager or owner can check up on them. This is usually done for several reasons, such as making sure that employees are staying on task, checking to see if employees are meeting deadlines, and even sharing files.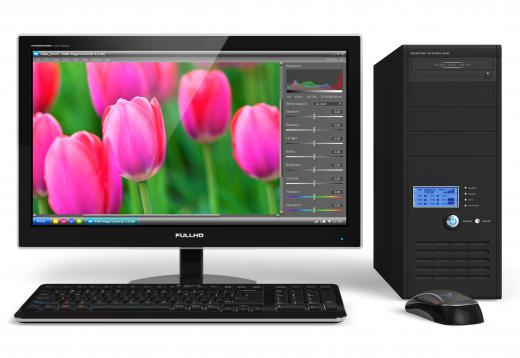 Colleges and educational institutes sometimes use remote computer technology as well. Remote computer technology in the classroom allows a teacher to take control of a student's computer remotely. This could allow the teacher to show that student how to perform a certain task or project.
Many business professionals who do a lot of traveling, often set up their home computer as a remote computer. This is an advantage as it allows them to access all files on their home computer from any other computer. This method may allow the businessperson to avoid carrying a computer with confidential information on it with him or her when traveling.
Nearly any computer that has the ability to connect to the Internet can be used as a remote computer. Even if a computer is not wirelessly connected to a network, any standard Ethernet or USB connection can be accessed remotely. For example, a home computer with a cable Internet connection, connected via Ethernet and a router, can be accessed remotely from another computer. Alternatively, that same computer has the ability to access another remote computer over a network.
The main driving force behind a remote computer is the software. All remote computer software works in basically the same way. A client program must be installed on the computer that is to be accessed remotely. A host program must be installed on the computer that is to be used to access the remote computer. After installation, the host computer will be able to access the client computer over a network, such as the Internet.
There are many options to pick from when choosing remote computer software. Windows® has a built-in application that offers a limited amount of remote desktop services for free. Some Mac® operating systems also have a built-in application allowing limited remote computer services. If these options are not for you, there are other free options to choose from.
AS FEATURED ON:
AS FEATURED ON:

By: Oleksiy Mark

Business professionals who travel often can set up their home computer as a remote computer.

By: yanlev

Remote computer technology allows teachers to take control of students' computers in order to demonstrate certain tasks.