A sockpuppet is a fake online identity created by an individual or organization for the discussion or promotion of that individual or organization's work or opinions. Sockpuppets appear on Internet message boards, discussion forums, product review sites, and other Internet communities. A sockpuppet might also be an individual who has more than one account on an online forum and utilizes one of those accounts to make anonymous postings.
The term "sockpuppet" has its origins in the more popular definition of the word, which denotes a hand puppet crafted from a sock. Online sockpuppets entail someone speaking through a fictional persona in much the same way a real sock puppet operates. The term was coined and first utilized by a LISTSERV user named Dana Rollins in 1993. It has since become an increasingly common word in online communities to describe those who partake in Internet trolling and other forms of virtual deception.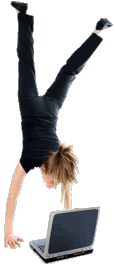 There are several different types of online deceit directly related to and associated with sockpuppeting. Astroturfing, for example, is a campaign launched by an organization to initiate the online reputation of a new idea, product, or person. The expression gives the impression that the popularity of the idea, product, or person is a result of grassroots rallying, when, in reality, the whole campaign is a meticulously orchestrated public relations operation. In this instance, a sockpuppet would create false online identities to boast about the effectiveness or benefits of the subject's agenda.
False flag endeavors are created in order to deceive the public about the true nature of an idea, product, or person. With false flag situations, a sockpuppet might craft a fictional persona to mislead the masses about the exact intentions of the subject. This duplicitous act could be done to boost profits, improve a tarnished reputation, or as a means of gathering support for a questionable cause.
A sockpuppet can also come in the disguise of an Internet shill. A shill is an assumed role in which someone claims to be a satisfied user of a certain product or service when he or she actually has an interest — financial or otherwise — in the stated product or service. In this scenario, a sockpuppet utilizes one online identity to ask for recommendations of a product or service, then logs in under another identity and responds with a recommendation for a specific company, singing that company's praises with the hope of generating more business.
AS FEATURED ON:
AS FEATURED ON:

Woman doing a handstand with a computer