What is a Speaking Dictionary?
A speaking dictionary is an electronic device that functions similarly to a traditional, paper dictionary. It is also referred to as an electronic dictionary. Speaking dictionaries are frequently designed to look like small laptops, and are roughly the size of a graphing calculator. They often have clamshell designs, with screens that flip up to reveal a display screen on one side and a small keyboard on the other. Some are designed more like a calculator, and feature the keyboard and screen all on one side.
There are many different ways to use a speaking dictionary. The first and most obvious is to type in an unfamiliar word; the dictionary will then display the word and its definitions on the screen. It will also pronounce the word aloud.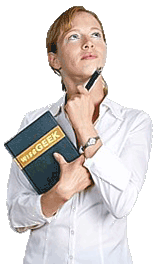 Some speaking dictionaries feature thesauruses included as well, so the word will be displayed along with its synonyms. In addition, a calculator, world clocks, and word games are other common features. A speaking dictionary may also feature a "word of the day," where the dictionary will select a new word every day, provide the definition, and speak it aloud.
Speaking dictionaries such as these can encourage learning, and can make looking at the dictionary a more fun, interesting, and interactive experience. In addition, some versions of speaking dictionaries allow the user to type in a word phonetically. The dictionary will then guess the correct spelling based on the way the word sounds, and will provide the correct spelling and definition, in addition to illustrating the pronunciation of the word. This can be helpful for people who want to look up a word in the dictionary, but do not know how it is spelled.
One feature sometimes found in a speaking dictionary is a translation feature. The most common translations are English to Spanish, or Spanish to English, but one can find a speaking dictionary available for many different languages. Some dictionaries may have more than one language built in. Keep in mind, however, that a speaking dictionary can generally only translate word by word; the end result may not make any sense in a sentence, due to the differences in syntax and grammar in other languages. For an electronic device more focused on correct translation of sentences, look for a pocket translator.
Keep in mind that not all electronic dictionaries need the capability to speak aloud; in fact, electronic dictionaries without speakers may be less expensive. A speaking dictionary may be ordered online or located in most office supply stores. Some come with manufacturer's warranties as well.
AS FEATURED ON:
AS FEATURED ON:

Woman holding a book