A spy monitor is typically one of two things: a small monitor or display used for viewing items through a camera or a program used to monitor the activities of someone through an electronic device. Small video monitors can often be used for a number of different purposes, typically allowing a person to see what is being captured on a camera, often in real time. Programs that can be used as a spy monitor can be used to record or view the actions of someone else who is using a device, such as a computer or mobile telephone.
When a video monitor is used as a spy monitor, the purpose of such a device is often to allow someone to secretly view video images without being obvious to others. This type of monitor can include a video display hidden in other objects, such as a pair of sunglasses that can be worn and connected to a video input device. Someone could also conceal a small monitor within a brief case or handbag and use the monitor to view images fed to the device from a remote camera. When this type of spy monitor is used with a hidden spy camera, someone can easily watch images that are being captured, without someone else being aware that he or she is being recorded and viewed.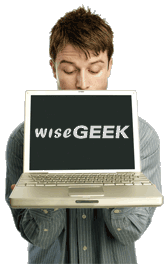 A spy monitor can also be a small program that can be installed on a device such as a computer or telephone to monitor the activities of users of the device. When installed on a computer, for example, this type of monitor can track keyboard input and the programs, files, and websites used and accessed on the computer. This type of spy monitor can even relay the information in real time to another computer user, allowing that user to view on his or her computer exactly what the other person is doing.
When a spy monitor is installed onto a mobile phone, it will typically allow someone to be similarly aware of the actions of that phone user. This includes phone numbers dialed or received, as well as any websites accessed. Someone using this type of monitor can also typically view any text messages sent from or received on the phone, and even the location of a phone can be determined using global positioning system (GPS) technology on the phone. This type of spy monitor program is often used by an employer or parent to ensure that company phones or phones given to children are not being used inappropriately.
AS FEATURED ON:
AS FEATURED ON:

Man holding computer