What is a Telecommunications Network?
A telecommunications network is a collection of nodes and links that is capable of carrying audio, visual, and data communications. While the term was once used to refer only to the collection of switches and wiring used by telephone service providers to provide audio connectivity to residential and business customers, it is now understood to include Internet, microwave, and wireless equipment as well as the more traditional forms of telephony. There are several different classes of telecommunication networks, with each of them having a slightly different focus.
The main function of any telecommunications network is to provide efficient transmission of information from a point of origin to a point of termination. A telephone call is the easiest way to understand the function. A call is initiated at a given point, with the signal routed through a series of nodes that may involve a combination of wired switches, Internet relays, and wireless nodes. The signal eventually terminates at a local switch, where is it then routed to the equipment used by the intended recipient. This process takes place within seconds, and establishes a connection that allows the parties to interact in a real-time fashion.
Today, there are several basic types of telecommunications networks in use. Along with the PSTA, or public switched telephone network, that most people are familiar with, there is also the Internet, a medium that is increasingly used for both voice and visual communications. Private computer networks are a common tool in many businesses today, as well as many institutions of higher learning. These basic types are all classified into several categories, which include such options as wide area networks, local area networks, and virtual private networks.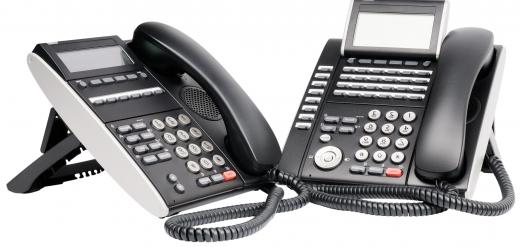 A telecommunications network that is set up as a wide area network, or WAN, allows for controlled but reliable communication between nodes that are geographically located across large distances. Businesses that operate multiple locations around a country, or even around the world, are likely to make use of this network model. Government agencies are also likely to use this approach to maintaining communications with branch offices and field personnel.
With a local area network, or LAN, the focus is on providing the same secure communications as with a WAN, just on a smaller geographical area. This type of telecommunications network offers phone, data, and Internet capability within an enclosed setting, and from a limited number of devices connected to the network. One example would be a hotel, where the phones and Internet access are all routed through a network located within the hotel. Connections to larger networks is only achieved by going through the LAN first.
Virtual private networks, or VPNs, are similar to wide area networks, but with one exception. This type of telecommunications network makes extensive use of the Internet to create and maintain connectivity. Security is established by granting users access credentials. Those credentials can be used from any device capable of connecting with the Internet, but the communications is encrypted in a manner that minimizes the chances for the network to be hacked.
As communications in general continue to advance, the definition and scope of a telecommunications network will also continue to change and broaden. However, the core concept will likely remain the same. As long as the form of communication allows for the real-time electronic exchange of audio, visual, and data transmissions, there is a good chance that method of communicating can be classified as a telecommunications network.
AS FEATURED ON:
AS FEATURED ON:

By: lexan

A wireless router can be used to set up a local area network.

By: Vtls

A telecommunications network may include telephones.

By: pedrosala

A system of nodes and links carry audio, visual and data communications information.