A toolbar is a pre-arranged list of command "buttons" for a computer program. These buttons, and the toolbar itself, are usually shortcuts that allow the user to control programming functions without searching through a list of commands. Computer operating systems also include toolbars, usually at the top or bottom of the screen. Some toolbars are designed so users can reposition them on the screen for greater efficiency, or hide them altogether.
The toolbar is a kind of programming feature called a graphical user interface, sometimes called a GUI or a widget. While these terms may be mostly known to computer specialists and programming enthusiasts, GUIs are widely used across the globe. They are a form of user-friendly interfaces that allow computer users to manipulate device functions without knowing programming language or protocols. GUIs of one kind or another are found in almost any device that employs a computer, including personal media players, cars, televisions, thermostats and telephones.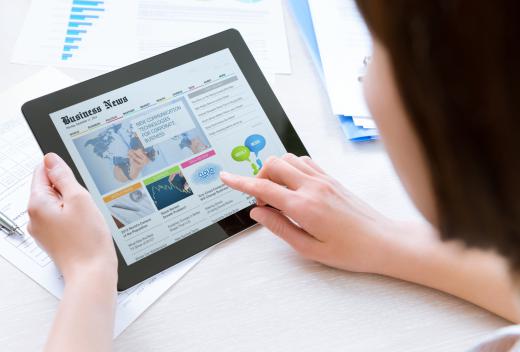 Toolbars have a variety of designs and functions. An operating system toolbar will usually be present any time the computer is active. Graphics programs may have several toolbars, some of which are always visible and others that only appear when certain functions are activated. Web browsing programs will have their own toolbars, separate from the operating system, and individual websites will often add yet another toolbar while the user is visiting the site. Useable screen space can actually be compromised by too many toolbars.
Another disadvantage is that some websites or companies will add toolbars to a computer without the user's consent, or by convincing the user there is some advantage to adding the function. Some of these toolbars can be spyware programs that track a user's web activity for marketing purposes. These toolbars can be difficult for inexpert computer users to remove. Operating systems and web browsers offer the option of locking toolbars to prevent such unnecessary add-ons.
Not all such add-on toolbars have sinister intent. Some aid web searches or offer shortcuts to frequently visited websites. "Bookmark" or "favorite" toolbars are examples of this kind of GUI. Most major search engines also offer toolbars to save web users the step of navigating to their search page. Increasing computer screen size means that many users can add these extra toolbars without losing significant screen space. Modern phones and portable devices also have these toolbars, despite their smaller screens. It could be said that the entire interface on some of these advanced handheld devices is nothing more than a high-functioning toolbar.
AS FEATURED ON:
AS FEATURED ON:

By: bloomua

Toolbars typically appear at the top or bottom of an application and include shortcuts to a variety of functions.