A Video Graphics Array (VGA) driver is a type of software on a Personal Computer (PC) or cellphone that controls a video device. A driver is essentially a set of digital instructions that enables the Operating System (OS) to communicate with the physical hardware. VGA drivers specifically are used to control information that is sent to a monitor or other visual display.
Capabilities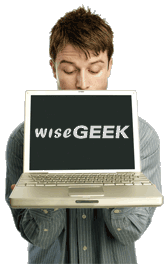 VGA drivers are specific to Microsoft Windows® compatible computers and cellphones that use a Windows® OS. They support graphics with a standard resolution of 640 pixels horizontally and 480 pixels vertically, and can display up to 256 different colors. By most modern standards, this is a low level of resolution, since many newer drivers can support horizontal resolutions of 1,024 pixels or more. For this reason, these drivers are often considered to outdated for use on PCs, but are still commonly used on mobile phones, which have smaller screens.
Common Usage
A VGA driver is still commonly included on PCs, despite being dated. It acts as a backup, allowing the computer to display visual information if no other driver is installed, or if a monitor is attached to a computer and uses a standard that the computer doesn't recognize. The standard 640 by 480 resolution is also used to display system information during the boot process, when the computer is first turned on.
Some mobile devices also come with this type of driver. The small screens found in cell phones and other portable units do not require high resolutions, so VGA is often sufficient for these devices. Manufacturers typically include the correct display driver within the mobile operating system, so that users do not need to install it themselves, but there are downloads available for phones that don't come with them.
There are also different types of VGA drivers that are compatible with different types of software — for instance, Windows® XP or Windows® Mobile — that can be downloaded for both PCs or phones. A person might need to download these if he or she updates the Basic Input/Output System (BIOS) or changes to a different OS that doesn't come with a VGA driver already installed.
VGA Mode
Computers also come with the ability to run in VGA mode, in which it only uses the VGA driver instead of any other type of graphics display system. This can be useful if there is a problem with one of the other display drivers, or when changing a graphics card, which can cause Windows® to not boot properly. If this happens, the user can put the computer in VGA mode, bypassing the problem and still allowing the display to work so that he or she can use the computer to fix the problem. This mode can also be used diagnostically, since a user can be pretty sure that there's a problem with the VGA driver if he or she tries to put the computer in VGA mode and can't.
AS FEATURED ON:
AS FEATURED ON:

Man holding computer