The term VPN network refers to a Virtual Private Network. It is a network used by companies to connect users at different locations to the company intranet, a private network that only company employees or other authorized individuals can access. Remote access and site-to-site are two types of networks commonly in use.
A VPN network uses a public network, such as the Internet, to connect a company's main office and satellite offices. It can also include telecommuting employees, who are working from home or another location one or more days per week. As a result, people can share information and work together without having to be in the same physical location.
A remote access computer network is one that is used when several employees must access the network from different locations. In this scenario, the telecommuters are provided with desktop software from the employer that they use from the remote location. To access the network, they need to use a toll-free number. This application can be used by employees working in home offices, branch offices, or who are out in the field, such as outside sales representatives.
A site-to-site VPN network is used to connect one or more branch offices to a company's main office. In this situation, each office has its own local area network (LAN). Each LAN is connected to each other through an intranet. This type of network can also be used to connect two companies who regularly do business. For example, a company may choose to develop a site-to-site VPN network with a supplier that it is doing business with regularly.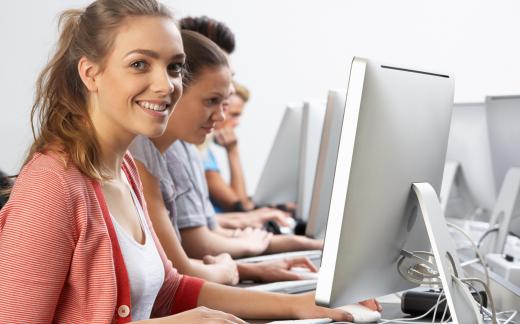 One of the important features of the VPN network is that it must be secure. Company information must be protected from authorized personnel accessing it. Encryption is the process used to reach this goal. It involves taking the information from one user and putting it in the form of a code that can only be deciphered by another computer user on the computer network.
As a company grows, its VPN network must adapt as well. For this reason, any computer network must be scalable. This means that the network can be expanded to accommodate more users, as opposed to being dismantled and replaced as the demands on the network increase. Careful planning is the key to getting the right computer network in place for a company's needs.
AS FEATURED ON:
AS FEATURED ON:

By: vschlichting

Companies must keep their networks secure.

By: Rido

Employees who telecommute or are traveling can use a VPN network to connect with the main office.

By: micromonkey

A VPN is a network used by companies to connect users at different locations to the company intranet.