What is a Wireless Digital TV?
A wireless digital TV is a high-definition television (HDTV) that receives audio-video signals wirelessly from a remote transmitting unit. The only wire attached to the TV is the power cord.
While conventional home entertainment centers take advantage of the latest technologies to bring us unparalleled excellence in picture and surround sound audio, cabling remains the bane of every setup. HDMI or component video cable must run from the big screen TV to the receiver. If component cable is used, it requires separate RCA audio cables. Depending on the setup, secondary components might also plug directly into the television's inputs. All of this wiring is not only inconvenient but unsightly.
It is especially hard to hide wires coming off a wall-mounted HDTV. Some people opt to channel cabling through the wall, exiting at the receiver. Others buy a wall unit, mounting the TV inside the unit and running wires behind it to the receiver sitting on a shelf below. But now there's another choice. Now you can eliminate all but the power cord, and mount your television wherever you like, unconstrained by cabling.
A wireless digital TV makes use of a separate, remote unit that is housed with your stereo or surround-sound receiver. This unit accepts all cabling, leaving the TV untethered. Using one of several competing wireless protocols, the unit transmits or streams audio and video signals to a receiver built into the wireless digital TV. Any component that you would normally plug into the TV, instead gets plugged into the TV's remote unit.
Remote units typically have two coaxial input ports for either cable or satellite and an over-the-air (OTA) antenna. One or more HDMI ports, component and composite video, S-Video and audio ports are standard. The front of the remote unit might have a drop-panel exposing additional ports for connecting a digicam, game counsel or MP3 player. USB ports are also located here to share pictures, videos or music archived on external storage devices.
There are several competing wireless standards for streaming HDTV to wireless digital TV sets, including Wireless Home Digital Interface (WHDI), Wireless HD (WiHD), Ultra Wideband (UWB), and the 802.11n protocol. Radio frequency (RF) bands and effective streaming distance varies between standards from 30 feet (10m) to over 100 feet (33m), so choose a model that uses a standard that will meet your needs and expectations. Some technologies will stream through walls, while others will not.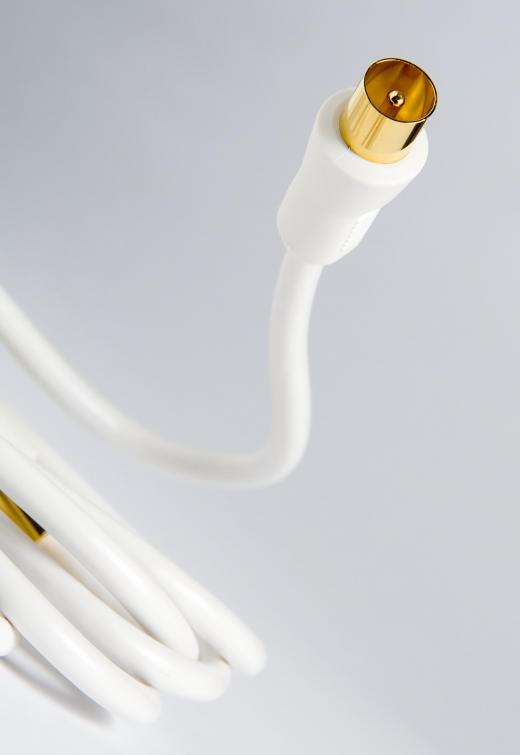 A wireless remote control interfaces with the remote unit to control devices connected to the TV without requiring line of sight operation. This will be a welcomed relief for anyone using traditional infrared remote controls with equipment shelved inside units where cabinet door frames often block or hamper the signal. Using a remote with a wireless digital TV does not require pointing the remote at the TV or at the remote unit.
Wireless digital TV is likely to replace conventional TV as home networks, Internet and HDTV technologies converge and consolidate into more streamline solutions. For the most current information in this rapidly evolving field, read reviews of the latest models available from Sony®, Panasonic®, Samsung®, Pioneer®, and other manufacturers.
AS FEATURED ON:
AS FEATURED ON:

A HDMI® cable.

By: yuriy

Paid satellite services broadcast digital TV.

By: Sergey Ilin

The transmitter and receiver in the wireless HDMI® system will not need a direct line of sight.

By: naypong

Wireless digital TVs are high-def televisions that receive audio-visual signals wirelessly from a remote transmitting unit.

By: jeffrey van daele

Coaxial cable is typically used during cable TV installation.