What Is an AC Power Socket?
An alternating current (AC) power socket is a receptacle for equipment power connectors that run on AC current. Power sockets that feed AC current to portable and other devices are an established part of residential homes and commercial industries, including fields like construction where many corded power tools run on AC current. The prevalence of AC power over that of direct current (DC) power is largely due to its increased versatility and ease of transmission over long distances.
The dominance of AC current began to take place in the 19th century in the United States, when inventor Thomas Edison demonstrated its superior transmission abilities from power stations to homes, over that of DC current. The predominance of the AC power socket is also due to the fact that AC current can operate at much higher voltages than DC, which allows it to be used for large appliances, such as washers and dryers, televisions, and computers that have high power requirements. It is also possible to convert the output of a AC power socket to DC current with a small rectifier, which makes low voltage DC devices such as power tools, cordless phones, and rechargeable battery-based electronics portable and practical.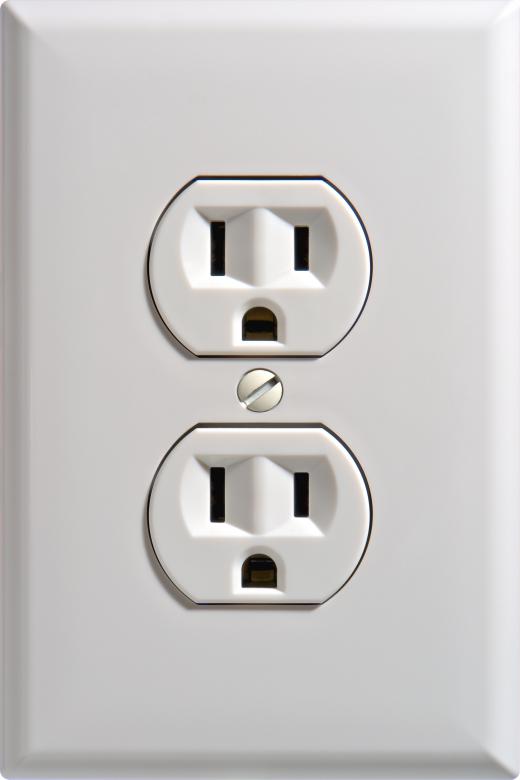 The design of the AC power socket is not universal, having five distinct plug shapes based on five different regions of the globe. The United Kingdom, Ireland, some regions of Africa, Hong Kong and Singapore use a flat three-pronged AC power socket designed to take 230 volts at 50 hertz cycles. Southern Europe and parts of the Middle East, Africa, and South America, such as Spain, Israel, Madagascar, and Uruguay use a rounded two-pronged AC power socket that runs on 220 volts at 50 hertz.
North America, Japan, and parts of South America and the Caribbean use a flat two-pronged AC socket for 120 volts at 60 hertz. Australia, New Zealand, Fiji, and China all use a flat, angled, and two-pronged AC power socket at 220-240 volts and 50 hertz. Some Northern European nations also have a separate AC power socket design, a larger rounded prong version used by countries such as Sweden, that runs on 230 volts and 50 hertz.
Though any one of the five the AC power socket designs may be designated for a particular country, some countries have electrical outlets for multiple types of sockets. This is because the voltage range for all power sockets usually falls within plus-or-minus 20 volts of two main categories — 220/240 volts and 100/130 volts — with either 50 or 60 hertz frequency cycles. This makes it possible to use many devices designed for AC in different countries, even if the voltage rating is off by 10% of what the device was built for.
AS FEATURED ON:
AS FEATURED ON:

An AC power socket.

By: Lusoimages

A 220 volt plug that works in AC power sockets.

By: nickolae

In the United States, AC current took off when inventor Thomas Edison demonstrated its superior transmission abilities.

By: Serg

European plugs have round prongs and run on twice the voltage as those in the U.S.