What is an Accelerated Graphics Port?
In the world of computers, one of the things the word port can refer to is a physical interface or point of access on the motherboard or system board. The port is in the form of a slot that an expansion board or graphics card pops down into in a motion often described as pushing toast down into a toaster. The Accelerated Graphics Port (AGP), made by Intel®, is one of the types of slots that may appear on the motherboard, along with PCI (Peripheral Component Interconnect) slots, for example. The Accelerated Graphics Port was developed to make it possible for 3-D graphics to display both more quickly and more smoothly on a basic computer than had been previously possible, but most newer motherboards have PCI Express (PCI-E or PCIe) instead.
In 1996, when the Accelerated Graphics Port came out, the peak data transfer rate was one of the key differences. By 2003, the data transfer rate for PCI was up to 133 MBps. (megabytes per second). AGP provided data transfer rates of up to 533 MBps. With AGP 8x, the speed was increased to 2 GBps (gigabytes per second). AGP also differs from PCI in being a dedicated point-to-point connection connecting the graphics card to the CPU, rather than the bus connection used by PCI.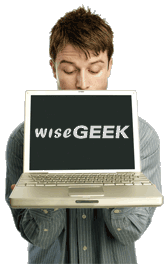 The Accelerated Graphics Port differs from PCI in several other ways, all of which tend to optimize the processing of graphics. First, it is a dedicated port, connecting exclusively to the graphics card. Second, graphics information from PCI is not pipelined, while that from AGP is: with non-pipelined processing, information is transmitted sequentially, with each detail waiting until the previous one has finished processing; in pipelined processing, a single request can contain multiple packets of data. Third, the technique of sideband addressing changed the way that address information was conveyed on data packets, speeding processing and reducing bandwidth requirements. Another Accelerated Graphics Port advance was to allow the OS (operating system) to designate RAM to be set aside for use by the graphics card. This reduces the load on the graphics card's memory and involves more RAM in the graphics processing.
AS FEATURED ON:
AS FEATURED ON:

Man holding computer