What Is an Aerial Amplifier?
An aerial amplifier, typically referred to as an antenna amplifier or antenna pre-amplifier, is a device that is mounted on outdoor antennas. These devices increase the strength of the broadcast signal that the antenna picks up before it gets sent, through a cable, to the television (TV) or tuner. While most aerial amplifiers are tuned to amplify TV signals, an aerial amplifier can be set to amplify just about any signal. Aerial amplifier devices are similar to distribution amplifiers, which typically amplify a signal inside the wiring system, usually for distribution to multiple tuners or television sets.
The aerial amplifier boosts signal level and is particularly useful in locations that are relatively far from transmitting antennas, such as suburban and exurban homes, where the signal has faded greatly. While the device was helpful in improving signal quality with the older analog TV system, they have become especially important with the advent of digital high-definition TV. Since digital TV will not work at all if adequate signal strength is not present, for many people, the only way to watch over-the-air (OTA) signals is by adding an aerial amplifier to their system. These amplifiers are also used by ham radio enthusiasts, who must boost wireless networking signals to operate over longer-than-normal distances, and any other users of radio signals that need a little boost.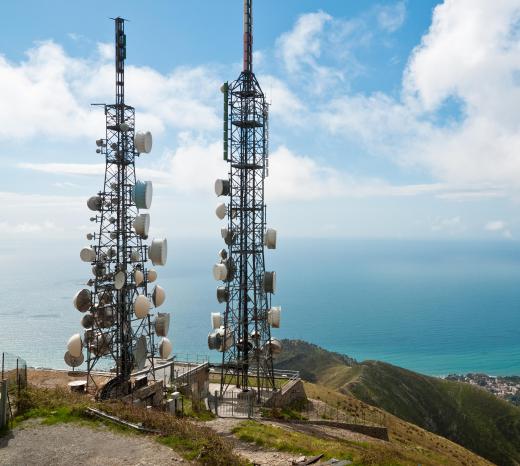 Typically housed in a small box, an aerial amplifier usually has an input connection that accepts the wire from the antenna, an output to the house's television wiring connects, and a power cord that is connected to a power source, typically, inside the house. The aerial amplifier is connected either right to the rooftop antenna or very close to it on the roof. Installing it as close to the antenna as possible improves signal quality by sending a stronger signal down the cable into the house that can better withstand both the attenuation and the noise that come with long cable runs.
Distribution amplifiers are similar to aerial amplifiers but serve a different purpose. They are typically used within a system at the end of the antenna lead. Working best with a clean signal, they amplify it not to improve its quality, but to ensure that the signal is strong enough to be split. Once split, the amplified signal can then be sent to a number of different TV sets, tuners, or other devices.
AS FEATURED ON:
AS FEATURED ON:

By: itestro

Without an amplifier, a digital TV signal can usually reach set antennas up to 70 miles away from broadcast towers.

By: zwolafasola

A digital TV amplifier helps boost the signal received by a television from over-the-air broadcasts.